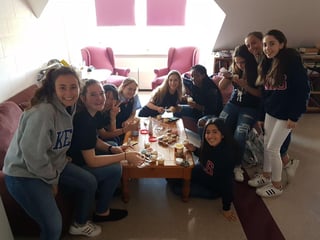 We're a close-knit family at King's-Edgehill School, graced with students who love to learn and who play with passion. Our boarding student body originates from over 20 different countries around the world, and we have an enthusiastic day-student population as well.
If you live in Atlantic Canada and have dreamed of attending a private school that has:
Small class sizes and individualized attention
A wide selection of seasonal sports
First-class athletic and performance arts facilities right on campus
Healthy meals and home-like living
Dedicated university preparation starting in Grade 6
Motivated friends from home and around the world
There has never been a better time to apply to King's-Edgehill School! We are actively seeking new boarding students from Atlantic Canada and is now accepting applications for the 2018-19 Atlantic Canadian Scholarships. Significant financial awards are available for new boarding students, covering up to half of the tuition and boarding fees.
Scholarships are not awarded based on marks alone. Character, fit and aspirations are equally important. We are looking for students who aspire to be more, to do more and to give back more. We would love to hear about your achievements, your goals, and your passions.
Ready to learn more? Please click on the link below. The deadline to apply is May 15, 2018.