The day of our Inspection finally arrived. The cadets of the 254 were excited. Boots were polished, spats were cleaned, and the uniforms were ready to go. Everything was 'good to go', to use an often quoted phrase. In the days leading up to the inspection, the Corps had marched outside in the cold weather, in the rainy weather and in any weather 'sharpening up' the routine for the parade.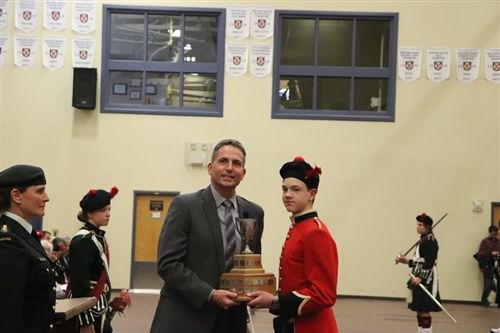 On all parades that we perform in the cadets or in the military, there is an old saying, "The RSM has ordered fine weather!" Normally on the day of, the weather cooperates. This year Mother Nature chose to ignore RSM Fraser. The Corps did an excellent indoor rehearsal in the afternoon. We were just preparing to go outdoors for a final run through and the skies opened up. Woollen kilts and doublets do not mix well with that much rain. The call was made and the parade moved indoors to our Ted Canavan Athletic Centre.
Moving indoors was no issue. The 254 can turn on a dime and give back the change. These young men and women are resilient. They simply adapted and gave an excellent showing to the assembled audience. The
Drill Sergeant Major, Master Warrant Officer Lane Latreille
, gave sharp, crisp commands to get the Corps into position. Once ready, he handed the parade over to the
Regimental Sergeant Major, Chief Warrant Officer Sophie Fraser. RSM Fraser
took command of the Corps and awaited the arrival of our
Reviewing Officer, Colonel (Retired) J Ron Stonier, President of the Army Cadet league of Canada, Nova Scotia Branch
. When
Colonel Stonier
arrived on the dais,
RSM Fraser
called for the 'present arms' and the Warrant Officers performed their sword drill like seasoned veterans.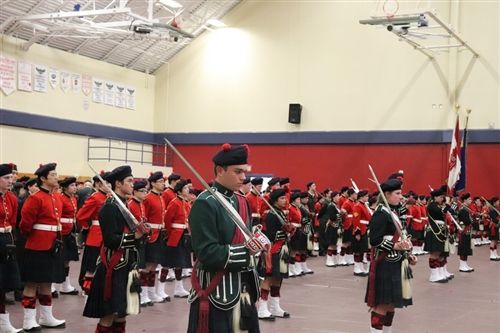 The brass and reed band of the 254 were fantastic. Among the normal marching tunes, they played a medley from the hit musical
Mama Mia
, a great crowd pleaser. Our newest addition, the Drumline, was in excellent form, accompanied on the bagpipes by the
Pipe Major, Master Warrant Officer Nicola du Toit
and the
Pipe Warrant Officer, Kelly May Bouwman
. These people can make music.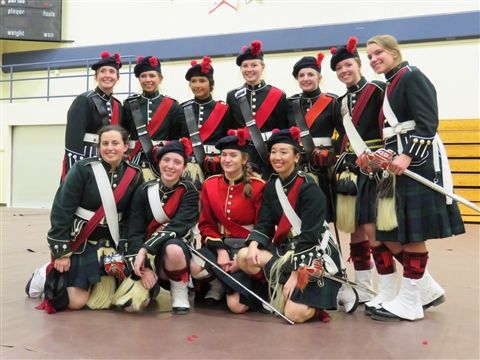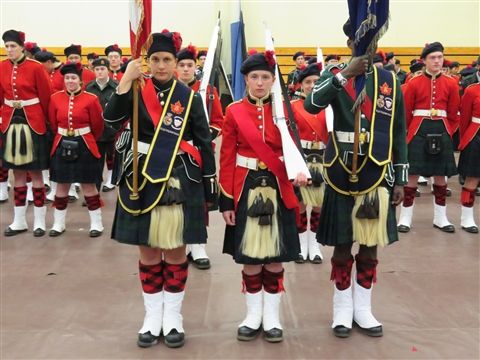 The cadets of the 254 were splendid on parade. They were sharp in their Highland Dress. They responded professionally to all questions put to them during the Inspection and soldiered on, despite the heat. I could not have been prouder. What a great day to be in the 254! I will see you in the Fall.
Thank you to Amelia MacDonald for the fantastic pictures!
Our KES 254 Cadet Corps is an impressive group with our students parading in bright red Highland Dress. Have a look! Download the Cadet Corps PhotoJournal for pictures and more.