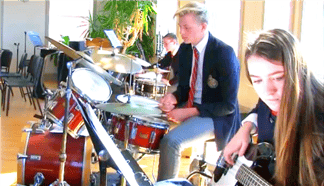 Periodically, I record my various ensembles for playback and reflective analysis. Such is the case in this clip. I have a stellar group of enthusiastic musicians in this term's Grade 10 Fine Arts Music class. They arrive to class eager to learn new material and perform. They cooperate and support each other, and they are always focused. Of equal importance to me is that they have fun. This week, I am submitting another unedited video of a typical rehearsal class with this entertaining bunch. That day, I asked the singers to really focus on intonation and blending their unison passages, and the band to be conscientious when playing their syncopated chord progressions. Don't worry if you are not familiar with these musical features; I'll just tell you that they did a solid job of both. This is
Grace Gallant's
(electric bass) comment on the performance:
This performance is special to our band as it shows our capabilities of blending and collaborating together musically. Our band throughout the term has bonded and melded together to form a musical group that we are proud of. Each music class is always fun and interesting. We agree on the task for the day and we accomplish learning a new song that same day, leaving us all satisfied and fulfilled. Collaborating has been an important learning lesson for all of us and
we hope you enjoy!
You'll find countless opportunities to express your artistic interests at our School. The Arts make up one of the essential four pillars of a King's-Edgehill School education.