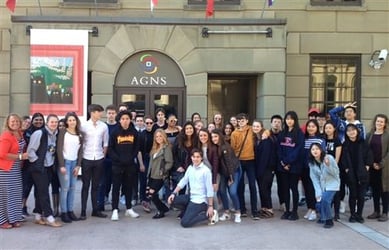 Thirty-six Grade 10 and 11 Art students visited the Art Gallery of Nova Scotia on Tuesday, May 7th. What a visit! We explored the recent exhibitions such as: Industrial Elements Air, Fire, Water and Earth; Salvador Dali, A Suite of Prints; and Halifax Harbour 1918: Harold Gilman and Arthur Lismer. Our docents opened our minds and exposed us to new adventures. One group actually had time to do Performance Art pieces in one of the exhibitions.

I think the one painting that truly opened our minds and challenged our beliefs was the large painting (3.5 meters by 7 meters) by Cree artist Kent Monkman. It was recently gifted to the Gallery by the Sobey Foundation, and it has recently been installed and is now part of the permanent collection of the Art Gallery. The massive painting depicts the arrival of the Europeans on the East Coast, the focus is two large sea-tossed vessels about to collide. One, a tattered raft rigged with a sail is occupied by pale characters from European history. The other vessel is a canoe filled with richly coloured contemporary and ancient Indigenous characters. The turbulence of these two cultures colliding was the theme that was explored. This painting certainly provoked thought and conversation and it truly is worth the trip to the gallery.

"I wanted people to think about what the treaties were intended to be, how they were interpreted by Indigenous Peoples; where did they go wrong?"- Kent Monkman
You'll find countless opportunities to express your artistic interests at our School. The Arts make up one of the essential four pillars of a King's-Edgehill School education.