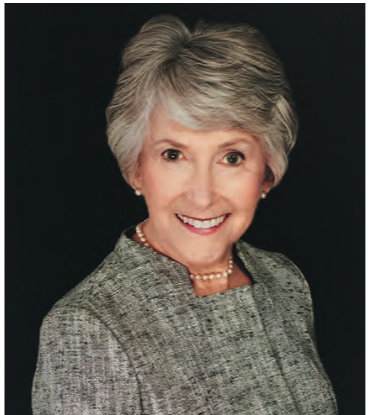 There are people in this world that you hear so much about before you actually meet them. Joan Gregson is one of those people. I had heard so much about Joan leading up to and at the Edgehill 125 Reunion the summer of 2016. Joan made many great friends while at Edgehill. Many of those friendships remain strong today.
The theme for this magazine is the "Arts." Ms. Gregson has definitely pursued a career in this field. As a new girl to Edgehill in 1945, she volunteered to write a script for the New Girls' play. She wrote about a young girl looking at a photo album with her grandmother. Edgehill promoted plays and musicals, and under the aegis of Miss Marshall, a music and language teacher at Edgehill in the 1940s, and Miss O'Neill, Edgehill's Headmistress from 1954-1958, Joan's interest in the theatre grew.
Joan graduated from Edgehill, married, and had children. Her interest in the theatre was dormant. However, one day, her mother persuaded her to see a play at the Theatre Arts Guild (TAG) in Halifax. Joan's immediate reaction upon seeing the production was "I can do better than that!" She let the TAG know of her interest and continued to pester them until she was cast in The King of Hearts, and from there she starred in ingénue roles for several years. Joan made the jump into radio when she joined the cast of the "The Gillan's." She played a myriad of characters including Billy, Mary Ann, Rob Roy, and the country teacher. At that time, CBC Halifax was a major production centre for radio dramas in Canada, and Joan worked for many years in that milieu winning an ACTRA Award for Best Performance in Radio for her portrayal of Mira, a Korean, in "The Path."
Joan became a member of the original company of Neptune Theatre appearing in the opening production of Major Barbara, followed closely by the Fourposter. Over the 31 years she was with Neptune, Joan appeared in such productions as Arms and the Man, Broadway Bound, Dear Liar, Same Time Next Year, Equus, Noises Off and Candida. I asked Joan if she had a favourite actor with whom she worked. She did mention Jamie Farr (Corporal Klinger from M.A.S.H.) who she starred opposite in The Last Romance (pictured on right).
Joan's "big break" came when she was cast to play Mrs. Cheever in the 1995 film adaptation of The Scarlet Letter featuring Demi Moore, Robert Duvall, and Gary Oldman. Joan then moved to Toronto hoping to seize opportunities in TV and film not then available in Nova Scotia. Over the years, she has appeared in several commercials, films and TV series such as Black Harbour, Murdoch Mysteries, My Babysitter's a Vampire, and most recently in Saving Hope, Schitt's Creek, Four in the Morning, Mary Kills People, and Anne of Green Gables.
Joan with Jamie Farr (Corporal Klinger from M.A.S.H.)
King's-Edgehill School Alumni Magazine - Life Connections 2016
Is Joan pondering retirement? "I am busier than I have ever been." Joan has no plan to slow down or retire! I caught a brief glimpse of Joan's work as she portrays a Snapple drinking, partying Grandma (pictured left). If you want to put a smile on your face, check out: https:// vimeo.com/138218258.
I have to say it's pretty cool knowing a real actor. Joan, may you continue to "break a leg."
If you are a dancer, a singer, a musician, an actor, an artist, or have all of these talents, then King's-Edgehill School is the place for you.