Do you love the sounds of bagpipes in movies and parades? Have you always wondered what it would take to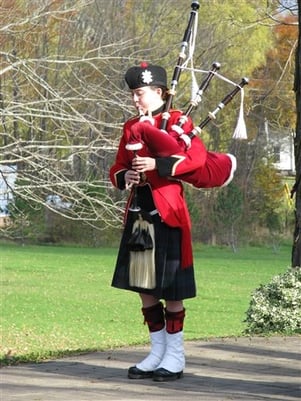 actually play one? As part of its robust Arts programming, King's-Edgehill School offers students a chance to play this mysterious instrument.
Our school, located in Windsor Nova Scotia, has a rich piping heritage. Even in "New Scotland", finding bagpipe teachers can be a challenge. The Bagpipe programme is offered, in part, because of our Cadets Programme also offered at the School. While students are required to participate in Cadets, piping is an optional activity your child can choose within our Cadets programme.uld take to actually play one? As part of its robust Arts programming, King's-Edgehill School offers students a chance to play this mysterious instrument.
The bagpipe program at King's-Edgehill School is taught by Alex Gandy, from Dartmouth and internationallyrecognized as one of the best pipers in Canada. Gandy is well known in piping circles for his skills, as well as his knowledge and ability to teach his art.
Our bag-piping program runs on Monday nights, all year long, dedicating an hour each of teaching to beginner-level, and advanced-level musicians. During the Cadets programme on Wednesday afternoons, students get a chance to practice further with student teachers. These secondary teachers help students work through the material they get from Gandy; those who take advantage of this option advance quickly.
Many students choose to bagpipe as a skill that counts towards their Duke of Edinburgh Award. Alex Gandy evaluates their progress at the end of each term. Students entering this programme expect to train hard. They also perform at special school services like Cadet Inspection in the spring and Remembrance Day ceremonies.
Shown to the right (picture), Emma Belliveau – piping in delegates for the Duke of Edinburgh Award ceremony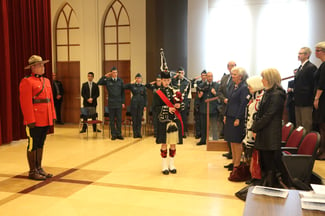 held at Province House last month.
King's-Edgehill School has had a long success with bagpipers who rise from the programme. Two students have attended Gagetown bagpiping camps during the summer months. Advanced pipers have opportunities to travel with Cadet organizations and as instructors.
Following Emma's recent piping in at the Halifax Duke of Edinburgh Award Ceremony Emma was invited to Toronto to pipe for a Duke of Edinburgh celebration this fall.
The Cadet programme opens up a number of new experiences for all KES students. If you are interested in bagpiping in particular, our Cadet Programme offers wonderful exposure. In learning to play the pipes, your child will get a rare opportunity to try this uncommon instrument with the haunting sound, in a part of the world still in love with its musical heritage.
Learn more about the many skills and programmes we offer at King's-Edgehill School by downloading your copy of A Day in the Life of a Day Student
or learn specifically about our Cadet Programme by downloading our Cadet PhotoJournal.