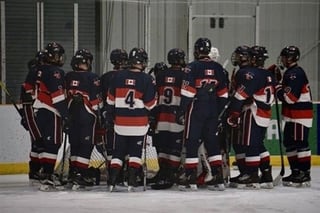 Our U16 Boys Prep Hockey Team competed in the last showcase for the season hosted by Newbridge Academy at the Dartmouth 4 Pad. The team faced some tough competition but had a successful weekend with a 2-1-1 finish. Game one played out with no score until Assistant Captain James MacGregor deked out Blyth Cougars goalie with 2.6 seconds left in the game. An instant celly erupted with Isaac Wilson and Will Keating, who assisted McGregor's goal. Goalie Rustam Kulizade earned the shutout. Still competing against Blyth (Warriors) in the second game only a few hours later, KES battled with 100% effort until the end, falling short in overtime 3-2. Nigel Morris opened the scoring for KES with Ryan Costello tying up the game towards the end of the second period. Marshall Plandowski, James MacGregor, Noah Wilson and Isaac Wilsoneach had an assist in game two.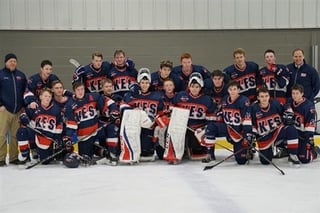 Next match up was a competitive game against rivals Bishops College. This early Saturday morning game brought out plenty of fans including students, teachers and family. KES entered the second period behind 1-0, however, MacGregor evened the score while Plandowski and Keegan Gilbert brought the team ahead by two. Josh Hunt, Noah Wilson, Will Keating, and Isaac Wilson all had assists in this game.

The last and final meeting brought the only loss for the weekend against Newbridge Academy. The players and coaches certainly appreciated the support from fans, especially their family members. This was the first weekend of the season that each player had at least one family member travel to cheer them on in game action while other family members and friends still had the opportunity to show support via Facebook live.

The boys head back for a week of practice at the Windsor Arena before they venture out for their longest road trip to date on February 28th. This takes them to the Prep School Hockey Federation League Championship in Rockland, Ontario on March 2-4, followed by a few days of practice and preparation in the quiet suburbs of Ontario before heading to downtown Toronto for the Prep School National Championship at Upper Canada College March 8-11.
"To play the game is good, to win is better, but to love the game is best of all"
Whether your son or daughter is a hockey fanatic or simply curious about Canada's favourite game, there's a KES team for him and her in our wonderful hockey programme. Download the KES Hockey Handbook and find out more here.