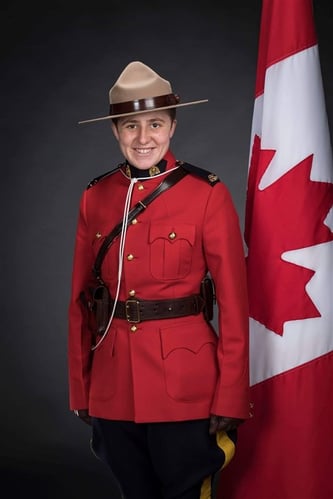 Lucy Killacky was a quiet girl with a mischievous smile who sat at the back of my Grade 9 English class in my first year at King's-Edgehill. Over the next four years, I had the pleasure of coaching Lucy in both basketball (for three seasons) and rugby (for four seasons). Throughout those years, it was evident that Lucy was on a path that would lead her to success. Her maturity and moral compass seemed to make her wise beyond her years. Upon graduating, Lucy and I stayed in contact as she worked her way through a university degree and a varsity rugby career at my alma mater, StFX.
It was no surprise to me, when I received a call from a recruiter from the RCMP who wanted to ask me some questions about a young woman who was in the application process to become part of one of Canada's most historic and revered institutions. To me the fit seemed like a perfect one, and I was honoured to speak on her behalf as I extolled Lucy's strength of character and skill set to the recruiter. This week, more than two years since that conversation, I had the wonderful opportunity to speak with RCMP Constable Lucy Killacky as she completes her two-week quarantine at her first RCMP posting in Inuvik, Northwest Territories.
During our conversation, I reminded her of the same anecdote I shared with the RCMP recruiter years earlier.


In Lucy's senior year as the captain of our rugby team, we were playing one of our rivals, Horton High School at Acadia University in her hometown of Wolfville. I don't remember the score, but I know it was close and both teams had to earn every inch of territory. Suddenly, on the other side of the field I watched Lucy take the ball and race up the sideline on a 60-yard run to score an incredible try! Our coaches and players on the sideline and fans in the stands erupted in celebration, but I noted Lucy simply jogged over to the match official and said a few words. Soon after, the referee walked to the sideline, blew his whistle, and handed the ball to the other team. It turned out that Lucy had stepped out of bounds on the play, but the referee had not seen it, so she had informed him of her misstep. I don't remember if we won or lost the game, but I will always remember the integrity and honesty she demonstrated in that moment. When reminded of that moment, Lucy admitted that she didn't remember it, but "that sounds like something I would do."
"If you look at a map of Canada," said Lucy as she tried to describe to me where her new home was, "it's in the top left-hand corner." True to her word, the small town of Inuvik is indeed one of the most north-western communities in Canada. After completing her RCMP training in Regina, Saskatchewan, she had a very short visit home to Wolfville before embarking on the over 7000km, five flight (Halifax-Toronto-Edmonton-Yellowknife-Norman Wells-Inuvik) trek to her new community. Despite its relative remoteness, Lucy is very excited to begin this new chapter and in typical fashion noted, "(Inuvik) has everything I need, and heck, it's bigger than Wolfville!" While she is still very early in her posting, she is eager to "engage with the community and get to know its people". "There is still so much to learn and so much I don't know, but my previous experiences have prepared me for this, and I am very excited."
When asked about her motivation to become an RCMP officer, Lucy noted the tremendous opportunity she would have to impact the lives of others while also gaining incredible life experiences herself. The thought of running into a situation where everyone else is running away from is something that Lucy accepts as part of her career path but is not something she is intimidated by. Before joining the RCMP ranks, she had been a full-time reservist with the Canadian Armed Forces and her training and experiences "have been very helpful in my new career already."
"Over the years, I have been Officer Cadet Killacky, Second Lieutenant Killacky, Lieutenant Killacky, Cadet Killacky, and now Constable Killacky."
Before we wrapped up our chat, we did venture down the KES memory lane a bit more, and we shared some laughs as she reflected on her many fond memories of her time at KES both in and outside of the classroom. "I have a lot of good memories from KES, but rugby is still what I remember the most."