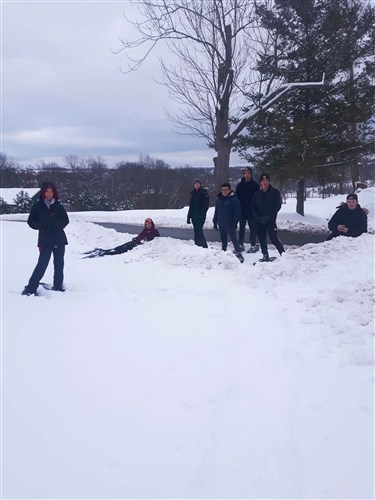 Last week the 254 Drill Team decided to take a break from the parade square and take advantage of the latest gift from Mother Nature -- the snow. We went outside for some snowshoe training, and this was a treat as there were varying skill levels.
Olivia Drava
is a seasoned trekker while
Nydia Liu
had never snowshoed before -- first time for everything. The team explored some of our fantastic on-campus trails. We learned hand signals (so we could communicate without speaking and that was fun!) and specific drills to ensure that you know your group is complete when you are hiking at night. At the end of the trail everyone agreed that we had a great fresh air break from the classroom and a great time in the snow.
The Drill Team meets on Tuesdays and Thursdays and we do more than drill. Watch the Noticeboard in the Student Lounge for upcoming activities.
There are ten modules to the empowering Cadet Corps at KES including the Confidence Course and On Tree. Find out what being a Cadet will mean for your child by downloading the Cadet Corps PhotoJournal.