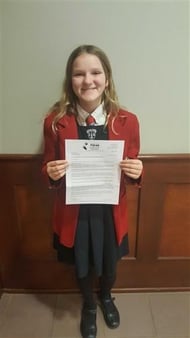 Athena Cox
, a Grade 7 Honours student at King's-Edgehill, has a passion for reading and has recently demonstrated her love and aptitude for writing. At the suggestion of her English teacher,
Rory Campbell
, Athena entered the Polar Expressions Short Story Competition in November 2017. This Canadian writing contest received short story submissions from thousands of students across the country. Athena recently received notification that her story
Shadows
made it to the final level of judging for students in her grade. In addition, Athena's work and biography will be published along with the other top-selected entries in a Canadian student short story collection titled Pursuit. Athena's short story will also be entered in the final round of judging where monetary prizes will be awarded. We are very proud of Athena's motivation and creative talents. Enjoy this short excerpt from her winning entry that will soon be available on a book shelf in Convocation Hall:

Alana McMillian was scared. Not just weekend horror movies scared, really genuinely afraid. She wished with every shaky breath that she had never agreed to the crazy dare that had landed her in this horrible place. Of course, at the time she was miss practical, never believing in anything she couldn't see. Now, it was what she couldn't see that was threatening her life. . .

Congratulations, Athena!

The best way to experience all that King's-Edgehill School has to offer is to sign up for our April Open House.