Dear KES Family: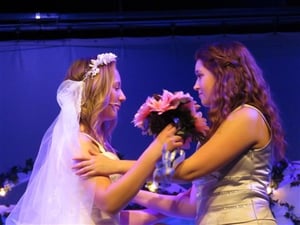 Last week, I attended my son's graduation ceremony from Queen's University in Ontario. In his address to the assembled graduates, the Chancellor spoke about how "the best things in life are not things". As we are entering the Christmas season, I thought he might focus his comments on the shortcomings of today's materialistic world. Instead, he emphasized the importance of friendship and memories.

As I watched last night's performance of Mamma Mia! I was struck by the truth of his words – not just in terms of the action of the play, but in terms of the experience of being in the play. Life can certainly be a mess sometimes. Whether in high school, university, or on a small Greek Island in the Mediterranean, challenges and triumphs greet us at every turn. For Donna (beautifully portrayed by Joanna Bond) it is clear that her two best friends Tanya and Rosie (played perfectly by Grace Gallant and Ella Brown) kept her afloat. They create joy and humour out of situations fraught with angst and self-doubt. Part of what allows Donna to succeed as a single mother and the owner/manager of her Greek Taverna is the strength of the memories she has with her friends. Their reunion during the action of the play is wonderfully entertaining and funny. However, it is also clear that the best things in the lives of the characters are not material things. It is their friendships and the memories they share and create together that really matter.

I am the world's biggest cheer leader for KES, and thus, I lose some credibility when it comes to reviewing a play. That being said, I woke up at 2:00am this morning with the joyous chorus of Mamma Mia! running through my head. I love this show! A part of me is quite envious of the students who are in the cast and crew. The friendships and memories they are creating will last a lifetime. For them, quite literally, this production is unforgettable. And maybe that is the whole point. For me it is a few hours of laughter and admiration. For those who are involved, for those who have struggled to learn lines, to balance school work and to manage the choreography, Mamma Mia! is one of the best things in life.

Sincerely,
Joe Seagram