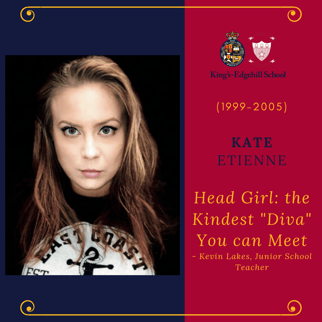 A diva in the best possible way, Kate exudes passion, confidence and talent on stage, coupled with kindness and empathy. This was evident during a recent visit to KES to lead a theatre workshop. "Oh yeah!! I love my name in the lights and the lights on me," she says with a smile that could power Manhattan Island. "I am definitely a diva," she knowingly proclaims with a laugh. "But I also really care for everyone involved in a production." Kate is doing just that in Come From Away, which is currently playing the Royal Alexandra Theatre in Toronto. The Tony Award winning musical, which depicts the kindness and humour that resulted from numerous airplanes being diverted to Newfoundland during the 911 crisis, has tailor made roles for the King's-Edgehill graduate who spent several key years of her life in Newfoundland."I will play up to six characters each night," says Kate. "When I got the call, I cried with joy, then I called my father and Mr. Smith." Kate discusses Mr. Jeff Smith's influence on her as a student at King's-Edgehill School in a way that can only be describes as a feeling of love for the experiences, memories and support. "This space (the theatre), is a safe place where you can screw up and grow up," she said to the KES theatre students of 2018. "I will never forget the day Mr. Smith said to me, 'Kate, you could do this for a living.'" Although it has not been easy: Kate says she almost quit a few times; however, she decided she would not be able to live with herself if she did not truly try to make it as a professional. She points to taking the full International Baccalaureate Programme as a helpful motivator. "I would actually say to myself: "If I can do full IB with all the Math and Sciences, I can do anything." Now she is the youngest cast member in Come From Away! As impressive as this is, it was also heartening to see her interact with younger
assembly as a little Grade 7 girl, and Mr.Penaluna said the versions of herself during her visit to campus. Her themes of perseverance, words "Head Girl", and I said to myself; 'I'm gonna be that!' encouragement and ambition were contagious. "I remember sitting in my first Kate went on to have an illustrious KES career in the classroom, within cadets and, of course, on the stage. Kate is well poised to launch her career even further from these roles, as her message to the students was clear. Be ambitious and give all you have to your passions.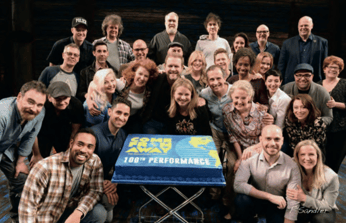 IN KATE'S WORDS: Music has been a part of my soul for as long as I can remember. Growing up some of my fondest early childhood memories consist of dancing around the living room in whatever dress-up clothes I could find, performing the one-woman version of "Cats" or "Joseph and the Amazing Technicolour Dream Coat" or anything Disney. My father was the Artistic Director of Theatre Newfoundland and Labrador at the time and, if I couldn't be in the show, I would make sure I got to sit in the corner
during evening rehearsals, quietly taking it all in.
When I was 12 years old, my family moved from Newfoundland to Nova Scotia. My parents found an advertisement in the paper for King's-Edgehill School. When I sat down in my entrance meeting with, then headmaster, David R. Penaluna, I was asked the question, "Where do you see yourself five years out of high school?" without blinking an eye I replied, "On Broadway." I'm sure he'd never had a pre-teen answer in such a way and with such resolution. When I was in Grade 11, I knew that I should take my private school education and IB diploma and choose a career in a more secure field like medicine or law but some part of me knew that I would never feel truly happy without trying to fulfill my dream of Broadway and a career in performing. Jeff Smith was the only one convinced that I had what it takes to pursue this as a career. My family were very supportive but also knew how fickle the business could be.
I started auditioning for theatre schools and when I found Sheridan College, I knew I had found my new home. I performed on a cruise ship, and although I loved the work I was doing, cruise ship life did not agree with me and I returned to Toronto. Gigs were few and far between. The struggle was challenging and pushed me to my emotional limits many times but, whenever I thought about throwing in the towel and changing careers, I just couldn't bring myself to give up. My perseverance through my 20's has finally paid off. I am a proud member of the Canadian cast of "Come From Away" in Toronto. This show about kindness, acceptance and the generosity of the human spirit has taught me so much, and I am grateful every day I get to share the show with the world. I feel as if I have found the nectar of fulfillment through my art, and hope to drink off it for a lifetime.
If you are a dancer, a singer, a musician, an actor, an artist, or have all of these talents, then King's-Edgehill School is the place for you.