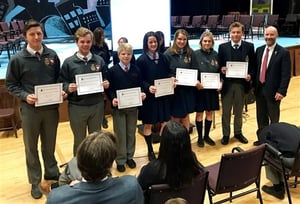 "Athletes of the Week" (AOW) are selected based on athletic performance and sportsmanship. Positive sporting behaviour is valued at KES and integral to our Athletic Philosophy and School Mission Statement emphasizing gentleness and learning and dignity and respect.
For the Week of March 8
th
– March 31stJunior Boy: Eric Sweetapple
advanced to Provincial competition in Alpine Ski Racing and placed 4
th
out of 24 Junior Boy competitors in his category. Well done!
Junior Girl: Zhi (Angel) Li's
dedication and perseverance drove her to work hard all season, improving her technical skill and speed. She helped her Intermediate Girls Varsity Ski Team win Gold at Provincials. Great work, Angel!
Senior Girl: Clare Bennett-Gibbs
was a leader and high performer throughout the Varsity Snowboard season. Her well-developed skills were an asset to our entire squad as she displayed technique, took on peer coaching opportunities, and performed very well during both regional events. Clare helped bring in a 1st place finish for the Senior Girls team at Regionals, and had the best individual time at Provincials. She played a major role in the Senior Girls team winning the Provincial Banner. A job well done, Clare!
Senior Boy: Sebastian Parsons-Hall
- Although not a varsity athlete, Sebastian was a very dependable lifeguard throughout the School year, during sports and other times in the schedule. He recently revealed his dedication on the recent Kilimanjaro expedition. He worked incredibly hard on his own (doing extra hiking) and at School (carried the heaviest pack) in preparation for Kilimanjaro and is the epitome of quiet leadership and service to others. Congratulations, Sebastian!
For the Week of April 1st

– April 7th

Junior Boy: Alex Moreno
was a welcome addition to the Senior Boys' Rugby team over the past weekend at our inaugural 7's tournament. Only in Grade 8, Alex played among and against experienced senior players in 7 games in brutal weather. He characterized his play with aggressive tackling, excellent ball handling, and a good use of the field in offense and in defense. We're looking forward to trying this tough player at scrum half as the season progresses.
Junior Girl: Bella Turner-Galaise
was outsized and lacked strength compared to each of her opponents, but as a youthful under 17 at the Canadian Wrestling Championships, her technical skills shined. She ended up with two wins and two losses, good enough to give her a 5
th
place finish, at her first-ever National championship. Only two other wrestlers from Nova Scotia placed better than 5
th
. Bella will be more than eager to improve upon this placing as she will compete in the same age group next year. Congratulations, Bella.
Senior Girl: Téa Racozzi
capped off a great year. She was one of only two medalist from Nova Scotia at the Canadian National Under 19 Wrestling Championships. Tea showed what hard work and dedication produces with a SILVER medal. She represented our School with great passion and was a very humble competitor. With hundreds of competitors from across the country at this event, this was a great accomplishment and caps off an amazing year and career for Tea, where she won yet another high school Provincial championship, the Eastern Canadian Championship, along with many other tournaments. Well Done, Téa!
Senior Boy: Ben Lohr
took charge of team 'Bravo', the second KES team in our inaugural 7's tournament on April 5-6. In bitterly cold conditions, he led his team to several victories and through several losses during the first rugby to be played on the new Jakeman Field. Ben chose starting lineups and organized the substitutions in addition to playing excellent rugby. He made the gain line almost every time he touched the ball, he made many aggressive tackles, and he showed an excellent example to his teammates, especially to the rookies. We are looking forward to more great leadership from Ben and our co-captain,
Evan Logan
, throughout the rest of the season.
We want every child to find an activity he or she can pursue with passion. With three seasons of sports and over 25 different options to choose from, we are pretty sure your child will find a few to love. Download our Athletics Photojournal to discover more sports at KES.