Our varsity snowboarders have been focused and training diligently since the Christmas holidays, and their Western Region results were good enough to advance our teams on to the NSSAF Provincial Snowboard Cross race at Martock on March 5th. On race day, thirteen KES riders competed against other snowboarders from across the province. Each athlete had two runs to complete and the top 3 best times were combined to determine team placement, and individual standings were also tabulated.
Click here
to see the complete list. At the end of the day, here are our results: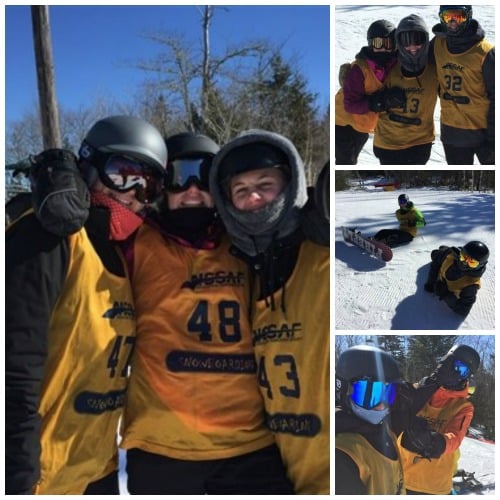 GOLD performance for the

Senior Girls Team

–

Clare Bennett-Gibbs, Kyra Jarvis, and Téa Racozzi

. In addition,

Clare

won GOLD

Senior Girls Individual

, and

Kyra

placed only a few spots off the podium with a 5th place individual finish, and

Téa

placed 8th overall.
On the boys side,
Zach Logan
won SILVER
Individually in the Junior Boys Category
. Together with his teammates
Fox Sullivan, Greyson Corbett-Lumb, and Kaz Schnitzer
, they took a team BRONZE place finish on the podium.
SILVER medals were captured by the
Intermediate Boys Team
of
Vincent Becker, Aidan Hennigar, Aden O'Callaghan
, and led by
Jem Logan
, who also took the
Intermediate Boys Individual
SILVER medal.
All of our riders improved this season and did KES proud with their accomplishments and excellent demonstration of sportsmanship.
Coaches Alguire and Smith
, along with trainer
Kimberly Sutherland
, are very proud of everyone's determined effort and commitment to the race programme. We especially thank our Grade 12 students,
Captain Kyra Jarvis, Clare Bennett-Gibbs, Téa Racozzi, Spencer Lockyer, Luis Espinosa, and Kate Mackinnon
, and wish them every success in their future endeavours. A special note of congratulations go to
Kate
for placing 4th in the Snowboard cross Big Finals at the recent 2019 Canada Games!

Go Team, go!
We want every child to find an activity they can pursue with passion. With three seasons of sports and over 20 different options to choose from, we're pretty sure your child will find a few they love. Download our Athletics Photojournal to discover more sports at KES.