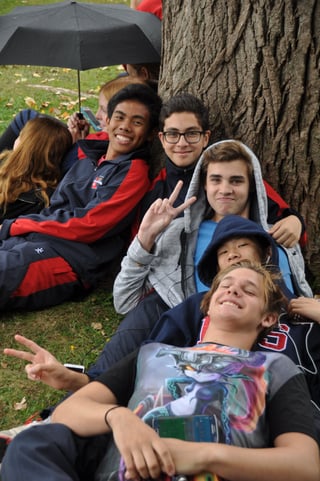 If you have ever considered enrolling your child at a private day school or boarding school then we invite you to save the date for the King's-Edgehill School Spring Open House on April 28, 2017. This open house is for parents, prospective students and their siblings and includes lunch for all guests. This is your opportunity to meet the staff and current students of KES!
King's-Edgehill School is Canada's first independent school and is a university preparatory school. Our School is comprised of a Junior School (Grades 6-9) and a Senior School (Grades 10-12). Senior students also have the opportunity to pursue the rigorous International Baccalaureate programme.
KES offers a diverse educational community complete with students from around the globe. We offer engaging arts programmes as well as outstanding and diverse athletic options.
At KES, we believe success in school is not just about cultivating the mind – it's also about cultivating the body and spirit through fun and physical activity. Our students' high success rates are due in part to our four pillars of education: Academics, The Arts, Leadership/Community Service and Athletics.
KES Students have a wide range of activities to choose from on and off campus including the opportunity to travel nationally and internationally as well as participate in their local community through volunteer activities. In short, we give our students the tools and experiences they need to be more.
Our Spring Open House will begin at 11 a.m. on April 28th with an Official Greeting in the Convocation Hall where guests will have the opportunity to meet staff as well as current students.
Following this there will be student-led tours of the campus including classes. Lunch will be served at 12:15 p.m. in the Dining Hall and then there will be an open forum, which includes a question and answer period. The Open House will conclude at 2 p.m.
We invite you to RSVP to the Open House as soon as you can. We look forward to welcoming you! At the same time, you don't have to wait until the Open House; you can plan a visit on any day that works for you by clicking here. We hope to see you soon!