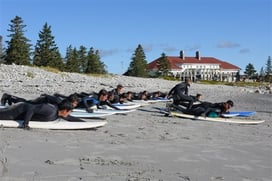 The September night air is a little cooler now; however, the ocean temperatures in the fall are still beautiful, warm, and swimmable! Students who want to test these waters for themselves are encouraged to sign up for the Thanksgiving Break Surfing Trip to the South Shore of Nova Scotia!

This is a beautiful time of year to be by the water, to get some instruction in some of Nova Scotia's favourite watersports and explore the seaside life!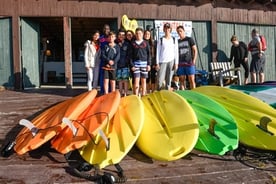 From a day of surfing lessons at White Point Beach Lodge, to stand-up paddle boarding, kayaking, and evening campfires on the beach, this excursion is guaranteed to be an energizing and refreshing way to spend the long weekend. This trip is led by KES faculty, and expert instructors and lifeguards will also be there to teach and support the daily water activities
To register for this trip, please contact Monica Schafer. This trip will run from October 5-8, 2018 and spots are limited to 18 students. Click here for the full itinerary.
Do you have questions about our School? We have the answers. In fact, we have put together an ebook with answers to the most commonly asked questions. Download your copy now.