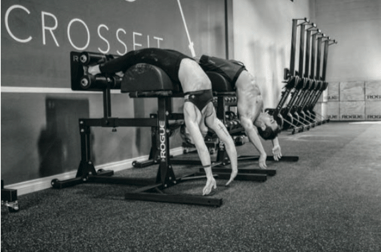 After leaving KES, I briefly attended Acadia University where I was enrolled in the Bachelor of Business program. After two years, I decided that
I wanted to pursue my desire of working in the Fashion Industry and moved to Toronto where I studied Fashion Marketing at the International Academy of Design. After receiving my diploma, I worked for Gucci America for three years as an Executive Assistant to the President of Gucci Canada and Director of the North East USA. I then moved to the Hudson's Bay Company to work as the Executive Assistant to Bonnie Brooks, President of the company at the time.
After years of working in the Fashion Industry, I found myself questioning what I wanted out of my life. My boyfriend, now husband Matthew, had been doing CrossFit, a fitness program that is designed to promote and prolong health and wellness at any age, for many years and was opening a CrossFit gym in Toronto. He asked me to please give it a try, I did and I was hooked.
After a life-changing experience with CrossFit, I quickly decided I needed to learn all that I could about it so that I could help share my experience with others. I quit my job, got my CrossFit Level 1 Certificate and began coaching people in the gym. I found that I was passionate about helping people find personal happiness, and I set out to make that my purpose.
Today I own my own CrossFit Gym in Mississauga Ontario called CrossFit M3, named after my 2.5-year-old son (Maximus) my husband (Matthew) and myself (Margaret). It is a family-operated gym, which both my brothers Tom (1999-01) and Joe (1999-03) are a part of. I have the pleasure of meeting and interacting with all kinds of different people every day. We help motivate them to use fitness as a tool to find confidence and happiness. I have seen so many people's lives change in the gym because they are surrounded by like-minded people who are using health and wellness as a way to a new life, both mentally and physically. I can't tell you how much satisfaction I derive from the thanks I receive from people whose lives have changed as a result of coming to our gym. It is my fuel to keep going. My focus on the future is to continue to grow my business and to touch as many lives as we can with CrossFit.
My advice to KES students would be to listen to your inner self when making decisions about your future. There is definitely a voice inside of you that knows the right path you should take. Sometimes it's not always clear but, if you allow it to, it can help guide you. Don't settle into anything in life and feel like you a stuck there, you can make anything of yourself as long as you are willing to take the risks to change when necessary. Be fearless and life will be exactly what you want it to be.