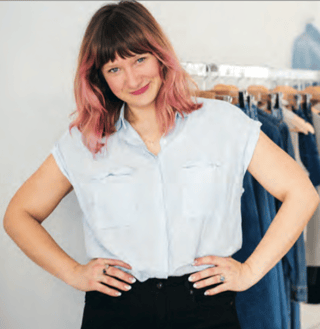 I enrolled at KES because my parents wanted me to get a great education! Plus campus life seemed interesting to me as I had no siblings close in age. I loved living with people from all over the world, and I loved the great music and art programmes along with the academics. I grew up at KES and I enjoy all the memories - the good and the bad. One quick memory is when I had an emergency appendectomy and Mr. Penaluna, who was the headmaster at the time, leaned over my hospital bed where I was waiting for surgery and said "you look absolutely green, Anna!" But it was kind of funny and made me laugh. Everyone was there for you through thick and thin. It was a big family for me. After graduation, I went snowboarding in Vermont
then to art school in NYC a year later. Then I studied fashion design in NYC and Florence, Italy. I then worked in Montreal for three years in the fashion industry before moving back to Nova Scotia to start a family and my own sustainable made-in-Canada clothing line.
I opened the Makenew Curated Thrift Shop and a clothing line we currently produce here in Halifax called
AKG. (Check us out online makenew.ca). I am currently expanding to a larger shop space and starting a wholesale business importing fairly-made goods from around the world and raising my daughter and still making art on the side. I won the Art Prize when I graduated from KES so you know I have to keep that flame going! Being able to meld my love for fashion and contribute to a sustainable future has been the most rewarding. In the future, I will travel abroad collecting beautiful things for my shop and exciting product mix expansions and collaborations while raising my daughter with my loving partner Zac and working on our house in Dartmouth while making art on the side. Oh, and you know, a small farm off the grid in the woods near the ocean?! I will always be involved with the arts and fashion. I get to work with so many talented people; I am so fortunate! And Makenew will always exist in some form or another. I am always working to improve what I do. The best businesses must lead the future not follow it. My advice to current students is: Do what you love and then working hard will never feel like work.
You'll find countless opportunities to express your artistic interests at our school. The arts make up one of the essential four pillars of a King's-Edgehill School education.