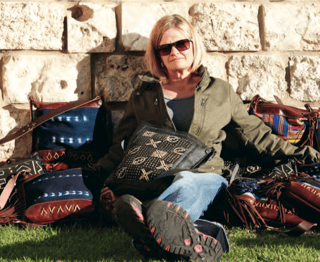 I attended KES from 1983 until graduating in 1986. It was actually my parents who wanted me to go there, and it was probably one of the best gifts they've ever given me. I loved the structure, the opportunities the school provided, and unlike many others, I really liked having to wear a uniform!! After graduation, I took a year off school, worked for very little money, and decided that continuing my education was definitely the way ahead for me. I then attended university, and took advantage of a year abroad (in France), got a taste for the expat life, and eventually started working overseas, in Asia, the US, and the Middle East for various universities and colleges. I'm now living in South Africa, in a small coastal town with my husband and four-year-old daughter. Since moving here more than five years ago, I've started a small business making handbags that incorporate textiles from across the African continent. The bags are sold online, both retail and wholesale, to clients in the US, Canada, Australia, the UK, and Europe. I've been moving a lot of "stuff" around with me for the past decade or two, with textiles purchased while traveling being the bulk of it. When I finally settled here in South Africa, I became even more fascinated with the textile traditions of this continent and the stories they tell. I wanted to do something with my ever-growing collection that involved being both creative and working for myself, and so in 2014 Chameleon Goods (chameleongoods.com) was born.
I haven't visited Canada since I've lived in South Africa, so my most immediate personal plans are to travel to Nova Scotia within the next couple of years. My business plans include partnering with a local sewing shop that trains and employs women in an impoverished area. They will be sewing canvas and textile items for me, while I will continue to work with leather. This will enable my business to expand to an even wider market. If I could go back to my high school self, I would tell me the following six things: 1) Say less, listen more (my former teachers would probably agree with this one! ); 2) Avoid personal drama; 3) Be thankful -- very few people in this world have the same opportunities you do; 4) Challenge yourself by doing difficult things; 5) Be loyal to your friends -- true ones are hard to come by; and 6) Be the person you'll be proud to look back on.
Our students – past and present – make King's-Edgehill School great. We'd love to stay in touch with you, and ensure you stay in touch with each other. Have a look at all the benefits of staying connected here.