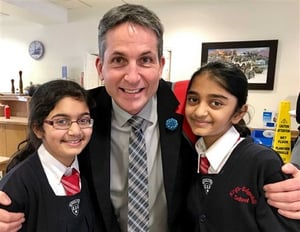 Meet two of the newest members of our King's-Edgehill School Junior School community: Nikhita "Nikki" Kolla and Tanvi Manchineni. Nikki and Tanvi are from England and recently moved with their families to Nova Scotia and became Grade 7 students at King's-Edgehill. They arrived just before Christmas and jumped in with both feet, taking part in all activities and even requesting to write term exams, which they did, just for the fun of it! Their enthusiasm for trying new things and taking advantage of new opportunities quickly earned them many friends and the respect of our entire community. They are fun-loving, capable and compassionate contributors to school life. It was terrific to watch Nikki and Tanvi play their first competitive game of basketball last week and, this past Wednesday, address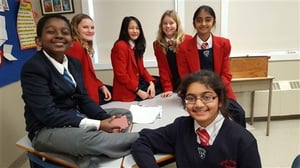 the entire Junior School with a presentation on their home country, England. They provided a cultural lesson that shed light on the geography, customs, and some little-known British fun facts: you can never be more than 115 km away from the ocean; it is a criminal offense to stick a postage stamp to an envelope upside down; it is illegal to die in the House of Commons(!) They pointed out that a "boot" isn't just footwear; in England it is commonly known as the trunk of a car. You wear "trousers", not pants, and in team sports you wear "bibs", not pinnies. As a follow-up to the Nikki's and Tanvi's presentation, lunch on Wednesday featured a delicious British menu that had been requested by the girls. The "Toad in the hole" dish was a particular favourite. I wish to thank Nikki and Tanvi for enriching us all with an interesting global lesson.
Contact us to find out how your child can be a King's-Edgehill student for a day. He or she will be teamed with a student in the same grade to tour our residences, facilities, and chapel, and join in for meals and classes - the complete KES experience.