I hope you enjoy the creations by the following IB Art students. Please note that our IB Art Reception and Exhibition scheduled for April 2-15 has been postponed, and a new date will be communicated after the March Break.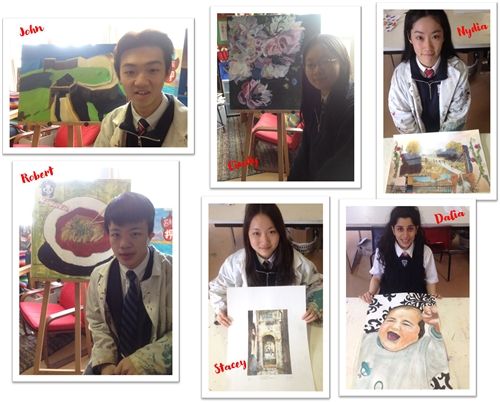 Lingxi "Nydia" Lui
has attended KES for three years and is from Qingdao, China.
I have chosen my "transfer project" to share with you since this was a new technique that I really enjoyed, and it complemented my work. I have always been interested in illustration and want to go into this direction for my career. I chose the theme of Autumn for this project since it came from a Chinese work that I used for this transfer. This also gave me the idea to use warm tones throughout and different images. Most of my work in the exhibition will be my illustrations.
Future plans: I plan to study Illustration at the Pratt Institute School of Design, New York.
Xinyi "Cindy" Li
has attended KES for three years and is from Shanghai, China.
I wanted to share this painting because I am very pleased with it. The flowers represent the flower of China which in English, I believe is the peonies. I have worked in both oil paint and acrylic paint and decided to work in acrylics with this painting. I love the colours and it is on a dark background which brings out the colour of the flowers.
Future plans: I am still deciding.
Zhihao "Robert" Li
has attended KES for four years and is from Shandong, China.
I chose this collage of "Baby Panda" since it represents my Chinese culture and it is the best Chinese restaurant in Windsor. I started with my favourite meal and then started to add the menu and then the chop sticks. So, it is more of a collage instead of a painting. I have an interest in design.
Future plans: I am still deciding.
Di "Stacey" Ao
has attended KES for two years and is from Foshan, China.
This was my first year in Art class, so I experimented with using different media. I chose my "transfer project" since I used a photo that I had taken in my hometown which reminded me of China. I also used watercolours on the image, and this was my first time using a lot of these materials. I wanted the colour to be monochromatic, so you look at the architectural element. I was very pleased with my first project.
Future plans: I plan to study Business.
John "Baojun" Fan
has attended KES for two years and is from Zhuhai, China.
I hadn't taken a lot of art classes before I joined this art class. I was always interested in painting and after our "transfer project", I wanted to try and work with acrylic paints on canvas. This is why I decided to share this work with you. I wanted to paint something from my culture and decided on "The Great Wall of China" and the symbolism of this image. I was pleasantly surprised in how much I enjoyed painting and am very pleased with the results. I am also interested in photography and plan to put photos in my exhibition.
Future plans: I plan to study Math and Computer Science.
Dalia Alrashdan
has attended KES for two years and is from Kuwait.
I have chosen this watercolour of my baby brother to share with you. This photograph was taken when he was 4 months old by my mother. (He is now 6 months old.) The photograph inspired me especially with the bold pattern design behind him and the design and colour on his clothing. This was the first time I had worked with watercolours and especially working on skin tone and facial features and on this large size. I experimented with tonal values for the skin and I am very pleased with my final results. Most of my exhibition in the IB art show is focused on my culture.
Future plans: I am taking Art Management at the University of Toronto.

The wonderful thing about striving to be more is that you never know where you might end up. Through our International Baccalaureate Programme, our students are able to pursue post-secondary education almost anywhere in the world. Download our IB Guidebook here.