We are happy to announce that a third member of our Senior Girls Rugby team, Amy Marchand-Dion, has committed to study and play rugby with the defending national champions from the University of Ottawa. Since her arrival on campus in Grade 10, Amy has been dominant on the soccer and rugby pitch while also being a key contributor to our Senior Girls Basketball team. Amy's athleticism is matched only by her poise and maturity on the field, and it is as though we have another coach on the field thanks to her game awareness.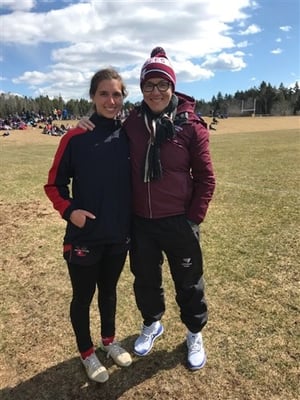 University of Ottawa coach,
Jen Boyd
, has had Amy at the top of her recruiting list for some time and had this to say:
"I first met Amy in 2016 at a U18W Canada camp held at uOttawa. What I noticed most about her was how composed she was under pressure. She has incredible feet and is remarkably mature. We are excited for her to join the Gee-Gees family in a few short months. I look forward to working with her and watching her achieve great things on the pitch, in the classroom and in the community."


Amy will study nutrition and will join current teammates
Kenzie Cecchetto
and
Morgan Rogers
, as well as former teammate
Alex Ondo (2013-16)
in the fall. While Amy and many of our seniors have varsity options next year, they are all still committed to doing their best to make a return trip to the Provincial Championships at the beginning of June.
J. Rory CampbellJunior English and Technology TeacherGirls' Rugby and Basketball Coach


Let your child experience the sights, sounds and fun of King's-Edgehill with a planned visit. Tour the facilities with a member of our admissions team, sit down and have your questions answered, and meet with our dedicated faculty. Schedule your visit today.