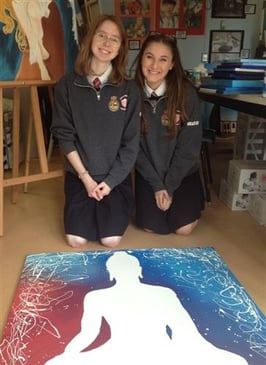 The Art Department has decided for the month of May to design and complete a few outdoor murals. The students enjoy being outside and collaborating on a work together project, and I am pleased to announce that we have four major projects on the go.

The first project that has just been completed is an outdoor sign for the Yoga Studio. A few of our Grade 12 students suggested this idea and, with the permission of our Yoga instructors and Mr. Seagram, we started the planning. Sam Giles and Maddy Ross had designed the concept and have just completed the sign. It will be installed in the next few weeks on the yoga building. Excellent job girls!

The Grades 8-11 Art students have just started working on two outside murals on the side wall of the Art Room. As a group, we have chosen two of Maude Lewis's paintings. I will keep you updated on the progress.

Grade 9 Paintings - Last week, I shared the Grade 8 paintings. For this week, I hope you enjoy viewing the Grade 9 acrylic paintings.
You'll find countless opportunities to express your artistic interests at our School. The Arts make up one of the essential four pillars of a King's-Edgehill School education.