On Friday April 28th King's-Edgehill School (KES) teachers, staff and students look forward to opening their doors to parents, prospective students and their siblings for a day designed to highlight why so many families choose KES.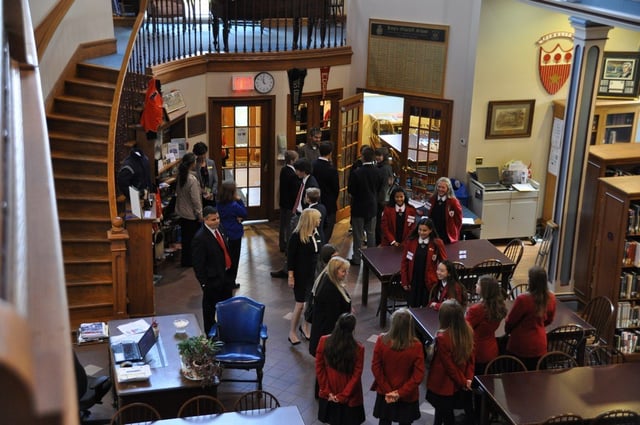 We understand that selecting a private school for your children is a difficult decision and can seem overwhelming. The KES Open House is designed to simplify the process by allowing you and your child to fully immerse themselves in the KES experience. Our Open House will not only allow you to tour the campus and get to know some of the KES family, but it will give you time to ask questions, explore the classrooms and hear, first hand, the value and enrichment opportunities KES gives each and every student.
Our Open House starts at 11 am with an official greeting in Convocation Hall where prospective students and their families will have the opportunity to meet teachers, staff and current KES students. The meet and greet is followed by tours of the campus including classes, the Athletic Centre, Theatre, Concert Hall and Student Residences. KES' own students, who know first hand what makes KES so unique, will be your guides for these tours.
Your student guides will share their KES memories and experiences as they show you around campus. Buildings such as the Theatre typically feature the talent of KES students, including the upcoming musical The School or Rock, and don't be surprised if you hear details about the various clubs our students take part in.
At 12:15 pm, following the campus tour, lunch will be served in the Stanfield Dining Hall – a great opportunity to see where students spend a lot of their time eating, socializing and meeting new friends. Families will be served food familiar to KES students. KES provides students with healthy food, designed to nourish their minds and bodies. Hot and cold options are served on a daily basis and students have the option of selecting their menu based on their diet, including vegetarian, gluten-free, dairy/lactose-free or based on food allergies and sensitivities.
KES parents never have to worry about packing (or forgetting to pack) their child's lunch and parents who choose to have their child board with KES never have to worry about their child's nutritional needs while away from home. International students often help plan special meals that also recognize their holidays from home.
The Open House continues at 1 pm with an Open Forum in the Theatre. This time is for families looking for more information on what KES has to offer through presentations and a question and answer period. Have your questions ready to ask – for some inspiration, consult our Answers and Questions download!
We hope to see you at King's-Edgehill School's Spring Open House! Simply click here and complete the form and we will be ready for you!
If you can't join us on October 28th, we would be delighted to set up a visit at a date and time that works for you. For more information on how to plan a visit for you and your child, visit: http://info.kes.ns.ca/planavisit. Make sure to set aside a full day for your time here so we can show you around and team up your child with a student in the same Grade to tour the campuses as though they were already a KES student! We hope to see you soon!