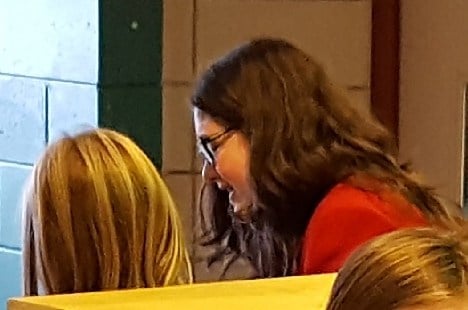 Volunteering is about giving, contributing and thinking beyond oneself. Volunteering is lauded in our community, and it is not just an after-school activity. Opportunities exist over the lunch period as well. Each Friday, there is just enough time for teams of Grade 9 students to grab a bagged lunch and head to Windsor Elementary School where they spend their lunchtime reading to young elementary students. The Grade 1 "reading buddies" arrive with their chosen book in hand excited to reconnect with our Grade 9 students who are eager to teach them to read. It is a wonderful partnership between the local elementary school and King's-Edgehill School, and all students return to their respective classes with smiles on their faces. It is wonderful to watch our students develop relationships with these young students and instill a love of reading. Our students exercise responsibility, patience and good teaching skills as they keep their buddies focused and feeling good about learning to read. Confidence, pride and the satisfaction of helping others are the rewards for our volunteers. Special thanks are extended to this week's group of Reading Buddy volunteers: :
Ana Becerra, Edward He, Emma MacDonald, Franck Ruiz Ortega, Mathangi Somasekaram
and
Megan Woodworth
.
A second group of students will be ready to go next Friday. There are many service opportunities available in the Junior School, and it is clear that the benefit is as great for our students as it is for those they are helping in the community.
Community involvement is a huge part of your child's education at King's-Edgehill School. We know that getting out and helping others builds connections, confidence and empathy; plus it just makes our students happy. This Student Volunteer Download shows some of the ways KES students are making contributions to stronger communities.