2016-17 Atlantic Canadian Scholarship Winner Profile Blog
Students from Atlantic Canada select King's-Edgehill as their school because they want to "be more" and although some of these students live close by, some also become boarding students. Which is why, each year, King's-Edgehill School awards two renewable scholarships to new KES boarding students from specifically Atlantic Canada. The Atlantic Canadian Scholarship is worth up to half the cost of board and tuition. The 2016-17 scholarship recipients were Morgan Bryant and Ryan Alexander, who are well on their way to successfully completing their first year and have plans to return next year.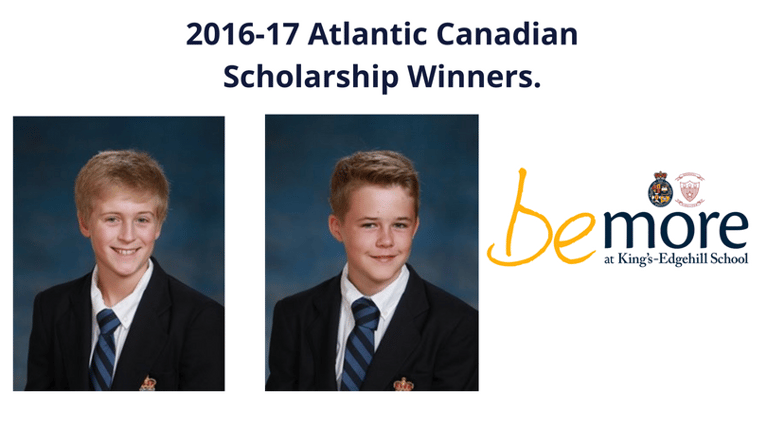 We recently asked both recipients to answer questions about their first year at KES, and here is what they had to say:
Ryan Alexander
Started at KES: Grade 8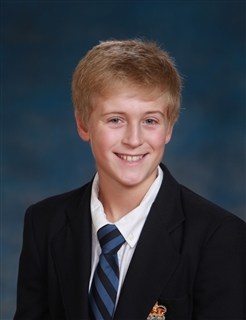 What did you like most about your year at KES? This is my first year at KES, and the school and
community have been so accepting. It has been an amazing experience so far. What I liked most about this year is that the classrooms were small with a max of 13 kids in my class. The reason why I like the small classrooms is because if you didn't understand a question your teacher can help you and give you lots of one-on-one help. There are so many other things that I could list about this year that have been positive, but there are just too many. Definitely meeting new people has been amazing. I am so grateful for this opportunity.
What was the most unexpected about your experience? The most unexpected experience has been the challenge with schoolwork. This has also been my first time with exams. Another unexpected experience was how a lot of the other kids from different countries taught me how to speak some of their languages, which I never thought I would get the chance to learn. Getting up each day on my own was a challenge at first, but my house parent and all my other peers made it easy to adjust.
What sports did you play this year? My main sport this year was hockey. I got the chance to play on the u18 team and I got the opportunity to travel to New Brunswick, Quebec, Ottawa, and New Hampshire. It was an experience of a lifetime to travel on the bus with all my teammates. I also played badminton, indoor soccer and rugby. If I wasn't busy playing hockey there was always someone around to throw the rugby ball or play soccer. The Athletic Centre was my favourite spot to hang out.
Was it hard being away from home? Any tips to other future boarders? The first couple of weeks were the hardest, but there were lots of people to help support me through those weeks. Another thing that helped me was to go outside and go to the gym and hang out with friends. If I could give some tips to future boarders, it would be to take advantage of all the opportunities KES has to offer and keep yourself busy. Also work hard and give your 100% at everything.
What opportunities did you have at KES that you wouldn't have had otherwise? I had the opportunity to learn in a small classroom, which was beneficial to me in so many ways as I had the advantage of learning one-on-one. At my previous public school the average class size was 25 to 30 kids. I also got to travel with the School and meet new friends from all over the world. I also enjoy the Cadet program and hope to continue on with cadets.
Share a favourite memory from the year. I have many favourite memories from this year as KES. One of my favourite memories was going to Mr. Lakes' house and seeing how he lives off the grid and how he creates his own power and heat. Another favourite memory was going to On Tree with Cadets and going on all the zip lines. Just living in the dorms has so many memories. My most memorable experience was the ability to play hockey almost every day and hanging out at the Athletic Centre playing so many different sports. It is great to be able to walk to the gym and learn so many new sports.
What would you tell somebody who is considering coming to KES? If someone is considering coming to the School I would tell them to take every opportunity that is offered at KES and enjoy meeting new people and enjoy learning about new cultures. The schoolwork is challenging, but there is a lot of support and if you work hard it will be worth it. It is an awesome feeling to see your name on the honours roll list each month and I aim for this goal.
What did it mean to you to receive the scholarship? Hockey was what allowed me to start the process to enrol at KES. Receiving the scholarship gave me the opportunity to actually attend and knowing that KES placed trust in me to represent KES was an awesome feeling. I am so grateful for this.
Morgan Bryant
Started at KES: Grade 9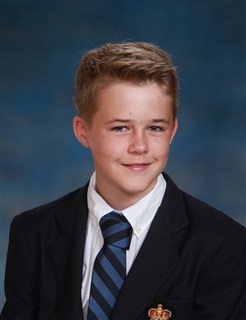 What did you like most about your year at KES? I loved going to Kejimkujik for the Grade 9 Duke of Edinburgh adventurous journey. It was definitely one of the highlights of my year. The out-trip really helped to bond us all as a group and it was a great way to get to know people in my grade right from the start. Our time together in the Nova Scotian wilderness gave me an opportunity to develop good friendships with people who I might not have talked to at all if we were just at school. On that trip and throughout the rest of the year I really appreciated the opportunity to make great new friends from all corners of the world.
What was the most unexpected about your experience? I was surprised by the extent of diversity at KES. Thanks to having classmates from many countries, I have had the chance to learn a few phrases from friends and hear about what life is like for them in their home countries.
What sports did you play this year? I started off the year with karate. I was going to play soccer, but I decided to give something new a try. Karate was great fitness with Sensei Rochon and there was a mix of grades there, so I got to know some of the KES seniors. The next term I did basketball with Coach Lakes. Our team this year was great because we all got along really well and had fun together as a team, especially on our weekend trips away. This term I'm doing ultimate Frisbee, which is a ton of fun because everyone is really on a level playing field and it's all about having a good time. The team is mixed with the girls and we are playing outside now that the snow is gone, which is a nice change.
Was it hard being away from home? Any tips to other future boarders? Before coming to KES I had lots of experience going to summer camps, so I felt like I knew what to expect. Being away from home was also easier because my house parent really made me feel welcome and like I belonged there. I also found the time at school easier knowing that we have longer and more frequent breaks, when I can spend extra time with my family, so it's not so bad.
My tip to future KES boards is: get to know your housemates and roommates well. If you can get to know them, you won't feel home sick. Introduce yourself to your roommate's friends and vice versa. Don't be shy; put yourself out there and remember that no one will criticize you for being nice. Your dorm will quickly feel like your new home. For the first few weeks just keep occupied to keep yourself from feeling homesick. If you start to feel homesick, just go to the gym. It will clear your mind. It seems like a big adjustment at first, but within the first couple of weeks you'll find your place in the school and you'll be fine.
What opportunities did you have at KES that you wouldn't have had otherwise? I had the opportunity to be exposed to new languages like Japanese, German and Spanish, from teachers, clubs and friends. The Success Centre and extra help from teachers was a huge help for me in adjusting to the workload here at KES.
My guitar lessons at KES are the best. I have taken lessons from plenty of people over the years and I can say that Mr. Tetrault is the best guitar teacher I've had!
Share a favourite memory from the year. My favorite memory of the year is probably marching with Cadets on Remembrance Day. I'm not saying that it was the most enjoyable experience marching in the freezing rain, but I know that the memory of being part of KES, of representing our school as a group and paying respect to our history, is a memory that will last forever. I can still feel the freezing rain.
What would you tell somebody who is considering coming to our school? KES is a really great school. It offers so much with sports, academics, volunteering, and more. Coming here may seem like a big change, which it usually is but you'll get used to it. Even if you don't know anyone coming here, you'll find your place. The workload may seem overwhelming at times but there are much more opportunities for extra help than at most other schools.
What did it mean to you to receive the scholarship? It meant that I could come to the school, which really meant a lot to me. It made me feel like I belonged at KES and that KES is willing to help me out and wants me to succeed. I'm sure there were plenty of people who applied for the scholarship, so I'm grateful that I was chosen to receive it.
King's-Edgehill School would like to once again congratulate Morgan and Ryan on their scholarships! KES encourages students from abroad as well as those who may live near the school to board at KES because of the unique opportunities afforded to students who live on campus.
Boarding students have a healthy balance of free time and structured time and access to modern athletic and arts facilities right on campus! They also have access to smaller class sizes, one-on-one time with their teachers, and numerous academic resources outside of the regular school day. KES prides itself on its welcoming community and offers every student the warmth and kindness of a home-away-from-home.
The deadline for the 2017-18 Atlantic Canadian Scholarship is this Monday May 15, download the information now to see if you are eligible.