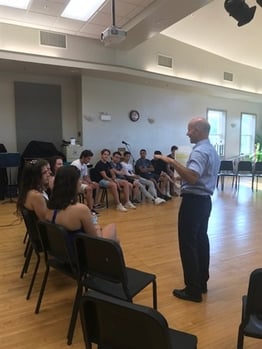 On August 29th and 30th, select Grade 12 students arrived early for the 2018/19 School year to partake in leadership training to become Prefects. At Prefect training, students took part in different activities to build stronger relationships between fellow Prefects and to plan upcoming events such as the Opening Day games and to establish their roles as Committee Heads. This Prefect group was also extremely fortunate to have Alumnus and former Prefect, Mr. Joe Grondin (1973-78), come in and share his ideals of leadership and his experience as a leader. Through these exercises, the Prefects gained tremendous new skills in how to lead and support one another which they will utilize in their various commitments within the School this year and onward.

To bring some perspective, Prefects are Grade 12 students who are chosen by the faculty, based on their contributions as exemplary student leaders. A Prefect exemplifies a myriad of characteristics for what it means to be a great leader, student, athlete and friend, symbolizing our core values of gentleness, learning, dignity and respect. Prefects lead by example. From planning dances, fundraisers, events for students and the end-of-the-year festivities, such as prom and alumni dinners, to being on duty in dorms on weeknights, the life of a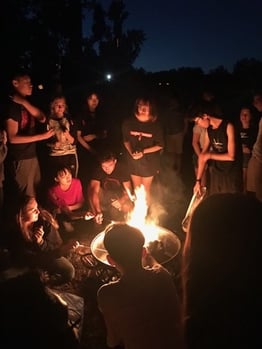 Prefect is busy and the responsibilities are seemingly never ending. However, the members of our Prefect body are given the respect they deserve and their duties do not go unnoticed nor without appreciation. Volunteering in chapel, the local food bank and fundraising for cancer research through the Terry Fox Foundation, is not only work that is appreciated by those in need, but it is also rewarding for these leaders as they are giving back to their community and school. In addition, our Prefect group is very diverse, with 50% being international, representing more than 15 nations around the globe.

Prefects at King's-Edgehill have exposure to different forms of leadership like how to plan events, work collaboratively and build upon leadership skills that they can utilize for the rest of their lives. Not only does being a Prefect benefit the student themselves, but it also benefits everyone around them. Teachers have students who they can rely on for support in and out of the classroom, and coaches see Prefect leadership on the ice, basketball court and soccer field and younger students can look up to and model themselves off of the leadership of their Prefects.

We would also like to extend a special thank you to Mrs. Sasaki and Mr. Casey for their contributions to the Prefects this year and for organizing and running Prefect training.
There are so many activities here that get students doing more, while we help them aspire to be more. If you're considering King's-Edgehill School for your child, you may want to connect with a current KES parent for answers and insights. We'll connect you with one here.