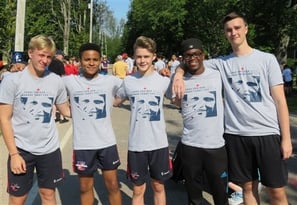 Sunday, September 16th, marked the 38th anniversary of Terry Fox's Marathon of Hope. Spirits were high on campus as students, parents, staff, alumni, and members of our Windsor community, including Mayor Anna Allen (1968-69), gathered to continue Terry's Marathon of Hope.
Under glorious sunny skies, the record crowd of about five hundred enjoyed the inaugural Terry Fox warm-up on our brand-new artificial turf field led by our new Dancercise instructor, Stephanie Cummings. It was a great kick-off to an outstanding event. There were strollers and wheelchairs, scooters and bicycles and participants of all ages. Whether
cycling, walking, or running, participants were spurred on by the enthusiastic cheers of student volunteers along the way. It was a pet-friendly event and there appeared to be every species of dog enjoying the 5-kilometre route.
The energy and spirit were contagious and the crowd lingered at the festive post-run barbecue listening to the terrific music provided by our student musicians. What incredible talent! Special thanks are extended to the many student and staff volunteers who made this year's Terry Fox Run such a success. Whether bagging groceries at the Atlantic Superstore, counting money and rolling coins, decorating the campus, marking the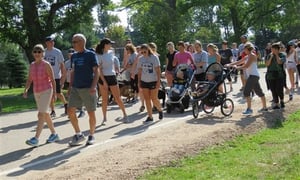 route early on Sunday morning, scooping ice cream, or singing and dancing during the post-run barbecue, the team of volunteers ensured that all ran smoothly and that a good time was had by all.
Although donations for cancer research continue to come in, this year's contribution has easily surpassed $16,000, beating last year's total of $15,900. Sincere thanks go to all who gave so generously. At KES we are proud to keep Terry's dream alive and know that our efforts are making a difference.
Congratulations to all involved!
This isn't the only example of King's-Edgehill School students contributing positively to our wider community. There are many opportunities to have an impact at KES. Read more about our Student Volunteers here.