During the first half of April, 11 clubs representing close to 300 swimmers from across Nova Scotia raced officially sanctioned meets in their home pools. Times were sent to Swim NS, tabulated, and the results posted this week. In our first Provincial Championship meet, KES Swimming has a lot to be proud of and plenty of reasons to be positive about our potential.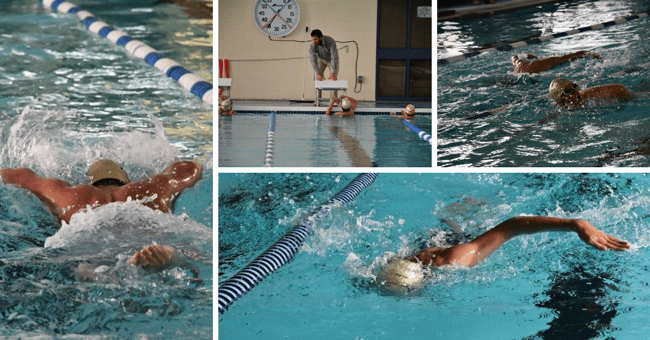 Hannah Stilwell '23
and
Lily Sidorchuk '23
have the longest competitive background on the girls' team and they led the way with the most personal best times. Hannah removed time from her 50m breaststroke and 200m freestyle events, and Lily dropped time in her 50m free, 200m free and was nearly 20 seconds faster than her previous best 100m freestyle result. Hannah's effort in her 50m, 100m and 200m breaststroke led to 15-year-old team records. Lily also set 15-year-old team records in her 50m and 100m free.
For most of the girls' team this first Provincial Championship meet is their second meet ever.
Maran Hawley '26
chopped nearly six seconds from her 50m freestyle race.
Bristol Quinn '27
removed three seconds from her 50m freestyle. She also set 11-year-old team records in the 50m and 100m freestyle, 50m and 100m backstroke and the 100m breaststroke.
Mollybeth Dickinson '26
sliced away just about six seconds in her 50m freestyle.
Lillian Blois '27
and
Hawley
both set team records.
Blois
set 12-year-old standards in 100m freestyle, 100m backstroke, 50m breaststroke and 100m breaststroke.
Maran
put her name in the 13-year-old KES record books in the 50m and 100m freestyle and 50m backstroke.
Laura Oulton '27
and
Mylah Simpkin '27
both proved their mettle as they dove into the deep end by making this big meet their very first meet. Their solid work ethic will prove itself when both join the ranks of personal bests in their second meet.
On the boys' team,
Harvey Hadley
swam seven races and placed on the podium seven times while winning four GOLD medals by sweeping all the butterfly events (50m, 100m, 200m) and adding the 50m backstroke. He won silver medals in the 50m and 100m freestyle and added two bronzes in the 200m and 400m freestyle.
Harvey
had four best times in his swims (400m freestyle, 50m backstroke, 100m and 200m butterfly).
Ryan MacDougall '27
blasted away time in five of his six events (100m, 200m breaststroke, 50m, 100m, 200m freestyle). His 200m freestyle was particularly faster as he dropped 18 seconds.
Ryan
stepped up onto the virtual podium by winning the bronze medal in his 200m breaststroke race. Ryan also earned team points by placing 5th 50m breaststroke, and 6th 100m breaststroke.
Rowan Francis '27
also had a great meet as he earned personal best times in five of his six events (and just 0.4 seconds from a best in his 200m freestyle - just a flip turn!).
Rowan
dropped a massive 11 seconds over just 50 meters of backstroke, and improved in his 100m and 200m backstroke, 50m and 100m freestyle.
Rowan
earned points for the team by placing 6th 50m and 200m backstroke, 7th 100m backstroke, 8th in his 50m and 100m freestyle. I don't know who inspired who, but
West Rafuse '27
also managed to drop 11 seconds over 50m in his freestyle.
West
led the whole team in time dropped with his massive 29 second improvement in his 100m freestyle.
West
scored team points in his 50m backstroke, placing 7th.
Westin Endres '26
had best times in five of his eight races (50m, 100m, 200m freestyle, 50m butterfly, 200m IM) and placed for team points in five of his races (7th 200m free and 50m breaststroke and 50m butterfly; 8th 200m breaststroke, 200m IM).
Stanislav Matkovskyi '22
had a great improvement in his 50m breaststroke of nearly 5 seconds and 13 seconds in his 100m breaststroke.
Volodymyr Kirillov '22
earned a best time in his 50m freestyle.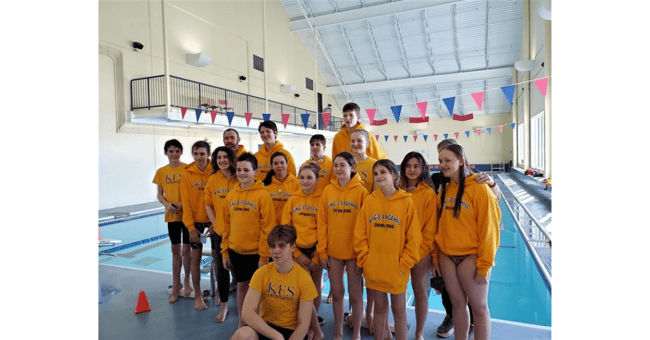 Congratulations to everyone on a great swim meet. A special thank you to
Mrs. Taryn Francis
,
Mr. Kyle Endres '89, Mr. Kim Walsh, Mr. Glen Faucher, Mrs. Shari Hadley, Simon Peschke '21,
and
Amelia MacDonald '21
for their expertise handling a stopwatch. We could not have had a Swim Canada meet without the volunteer efforts of officials
Ms. Sue Jackson
,
Mr. Andreas Henger
and
Mrs. Kerstin Henger
. Thank you also to
Ms. Santana Gray
for keeping us safe. Our final thanks for leading us to success, Head Coach
Moira Milward
.
We do not know of our next meet, but we are confident that there will be one! Training will continue for all into June and for many to mid-July.