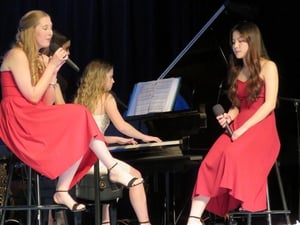 Last night, our School celebrated the 2nd Annual Arts Gala, hosted by seniors

Nicola DuToit

and

Linus Mulherin

and assisted by the Arts Committee Head,

Joanna Bond

. The event showcased talent and works from our various programmes of visual art, media art, dance, drama, and music. Midway through the show,

Nicola

(vocals) was joined by three more Grade 12 students,

Sharlene Chan

(vocals), and

Kathleen Balcome

(piano and vocals), and

Antonia Ziegler

(page turner) to perform a piece from the 2017 hit movie, The Greatest Showman, entitled

A Million Dreams

.

Click here

to watch the performance. Their rendition was filled with passion and musicality and delivered an appealing message. The chorus of the song sums up nicely the ethos of art, in my opinion:
They can say, they can say it all sounds crazy
They can say, they can say I've lost my mind
I don't care, I don't care, so call me crazy
We can live in a world that we design

The Arts are demanding and yet liberating, offering each of us the opportunity to express ourselves in unique ways. The expanse of talent in this School is impressive. We are blessed indeed. In the weeks ahead, I shall continue to feature more for your enjoyment.
Do you have questions about our school? We have the answers, in fact we've put together an ebook with answers to the most common questions perspective parents have, download your copy now.