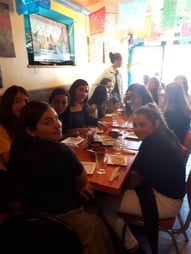 Mexican Independence Day

We celebrated the Mexican Independence Day this year at Mexico Lindo in Halifax. Every year in Mexico, there are parades, parties and the ringing of the bell at the National Palace. The President rings a bell and everyone yells, "¡Viva México!" three times. Mexicans all around the globe celebrate Independence Day, also known as El Grito because it is the day when Miguel Hidalgo y Costilla launched the revolution that led to Spain's departure from Mexico. At Mexico Lindo, We enjoyed authentic dishes such as hominy soup, beans, rice, tamales and shredded beef in warm tortillas. The students sang all the way to Halifax. The food was so delicious and filling that they slept all the way home. A great time was had by all.


The Moon Festival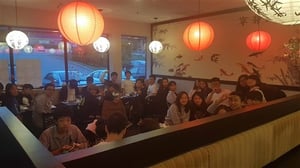 The Mid-Autumn Festival is also known as the Moon Festival and is celebrated on the 15th day of the 8th month of the Chinese Lunar Calendar. It is the second biggest festival in China after the Chinese New Year. It is always celebrated in the middle of the autumn season because at that time of the year, the moon is at its roundest and brightest. This year we went to Wasabi House for an all-you-can-eat buffet and we ate and ate and ate. Students also took orders for delicious moon cakes and delivered them to their classmates. Moon cakes are a traditional food eaten during the Moon Festival.
Choosing the right boarding school for your child can be a daunting decision. We invite you to download our PhotoJournal, A Day in the Life of a King's-Edgehill School Boarding Student and contact us with any questions you may have.