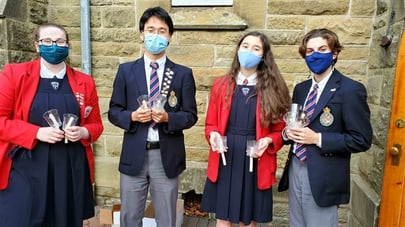 They have no special hoodies, no sweaters with distinguishing marks, no 'branding' bling or swag to highlight and signal any sort of prominence. Nothing that screams 'look at me, look at me'. But there they are, day in and day out, faithful and reliable, responsible. They are the Chapel Prefects who serve quietly and responsibly, greeting students and faculty alike as they arrive at Chapel and organizing the servers and readers in time for the services. Along with our organists,
Mr. Steven Roe
on Tuesdays and Thursdays and
Will Ahern
on Mondays and Fridays, they are the most dependable and reliable of all the School with respect to Chapel. Their service is leadership without the need for attention and reward; the satisfaction lies in doing well what is needed to be done. They exemplify the best and truest sense of service and sacrifice.
In this year of Covid fears and anxieties and the shifts and changes those things have occasioned, the Chapel Prefects have simply embraced their tasks faithfully and consistently in encouraging fellow students of all grades to serve and to read. They stepped up wonderfully with respect to the four Advent Christmas services, taking care of many little details such as the lighting and extinguishing of candles; and all without any fuss and bother. I cannot express my gratitude to them enough for their support and effort. A shout out, then to the Chapel Prefects and to the
Head Chapel Prefect,
Sarah Hilborn
,
ne plus ultra
! And who are they?
They are:
Sarah Hilborn
: Head Chapel Prefect,
Mathangi Somasekaram, Rhyan Rusaw, Kaylee Hickey, Jaymie Fawson, Rachel Griffith, Peter MacGregor, Patrick Browne, Abby Wambolt, Lucas Gimenez, Jiahuan (Edward) He, Ileana Wheeler, Yi (Edward) Chang, Lily Gale, Angus England, Svenja Priggemeyer, Gretchen Russell, Griffin Lily, Jem Logan, Sarah Bell, Victoria Dubois,
and
Grace Gallant
.
Well done, and thank you, thou good and faithful servants.