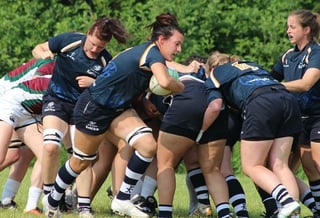 Emma Taylor came to King's-Edgehill School for her Grade 12 year in 2009-10 because she wanted a greater challenge and guidance for her future. Emma immediately added a spark to our Soccer, Basketball, Hockey and Rugby programmes. She was approached by several universities for her prowess in Rugby and Hockey. She decided to attend Saint Francis Xavier University (StFX) in Antigonish in the fall of 2010. Below is Emma's synopsis of her five years at StFX.

"In my first year at StFX, I made the Women's Rugby team. We won the AUS (Atlantic University Sport) banner and then continued on to win the National finals in overtime against Concordia University. What an amazing start to my university Rugby career! In my second year at StFX, we lost in the National final against Guelph, 28-0. In my third year (2012), we were known as the "Dream Team". I played with four women that year who would go on to play in the Women's Rugby World Cup in August 2014 which won silver, Canada's best performance in history. That year at StFX, we won the AUS title once again and we hosted Nationals where we beat Guelph in the National Final 37-0. That year I was named an AUS All-star and a CIS (Canadian Interuniversity Sport) Tournament All-star.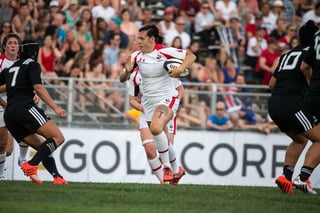 That same year I went to my first Rugby Canada Camp held in Shawnigan Lake, BC. I also played for Team Atlantic (the first year that this team ever existed). The team was compiled of the top players from the Atlantic Provinces and competed against other provinces at a National Tournament in Vancouver. Unfortunately, during that tournament, I blew out my knee and ended up needing surgery a month later. As I continued into my fourth year at StFX, I was named Captain of the team. It was hard to lead from the sidelines, as I wasn't ready to play until halfway through the season. Despite the loss of many starting players from the previous year, we still managed to beat Acadia in the AUS finals held at UPEI where I was named AUS tournament MVP. We continued to Nationals where we lost our first two games but beat Laval in the 5th place game. That year I was named AUS All-star, AUS tournament MVP and a CIS All-Canadian.
This past year (2014), my last year of eligibility, was the most special. Our team was young, but very eager to improve and show the nation what we were made of. We won our 17th consecutive AUS title for X-Women Rugby when we beat the host, Acadia, on its own pitch in overtime. I was named AUS all-star, AUS Conference MVP and the AUS tournament MVP. We went on to Nationals at Guelph University where we came from behind in every single game but ended up winning ANOTHER National title; the fourth in history for X Women Rugby, and my third since attending StFX. I am actually the only StFX athlete in history to have won three National championships! I was named a CIS All Canadian, a CIS tournament All-Star, and the CIS tournament MVP on top of my AUS awards. I should also mention that once I finished playing Rugby, I jumped over to the StFX Women's Varsity Basketball Team to finish my career as a dual athlete! At the 2014/2015 StFX Awards Gala, I was named the Women's Rugby MVP and StFX Female Athlete of the year.
I was also named the AUS Female Athlete of the Year and was flown to Calgary to represent the AUS for the CIS Athlete of the Year at the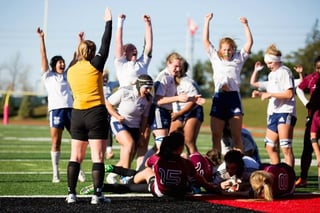 BLG (Borden Ladner Gervais) Awards. There were only four male and four female nominees so it was an extremely special experience. In mid-May, I played for Team Canada in Calgary. We played against New Zealand, USA and England. I received my first cap for Canada in the first game of the tournament against New Zealand. Every time you step on the field as an international Rugby player, you receive a cap. You have to actually receive playing time, you can't just dress. The feeling I had running onto the pitch for my first international match was probably the most exhilarating and incredible moment I've ever experienced. It was like seeing everything you've worked so hard for right in front of your eyes."
Knowing that we have many budding Rugby stars at KES, I asked Emma if she had any advice for them. She replied, "I encourage all young Rugby players and athletes in general to always follow their dreams. It's funny how your dreams can feel so out of reach, but if you're willing to do everything you have to in order to reach them, they become a lot more attainable." What's next for this Rugby rockstar? "I have a lot of goals. I like to set monthly and yearly goals. Right now my biggest goal would be to play in the 2017 Women's Rugby World Cup!"
I asked Emma what she is thinking about for the future outside of her aspirations on the Rugby pitch. She replied that Law School is definitely in the mix. I have a vision of Emma in a court room tackling anyone who dares to oppose her. She is a woman with a mission.