The ACIS Basketball Tournament was once again a success with KES being represented by three competitive teams. The Junior Boys finished second in the six team tournament dropping the final to Fountain Academy.
Righo Etou
once again led the team in many respects scoring often and controlling the rebounds.
Lucas Tam
hit several three pointers,
Rodrigo Morales
made many steals and
River Qi
used his size to the team's advantage.
Luis Ganem
brought energy to the defensive side of the ball, along with
Will Ahern
, who also hit several long shots.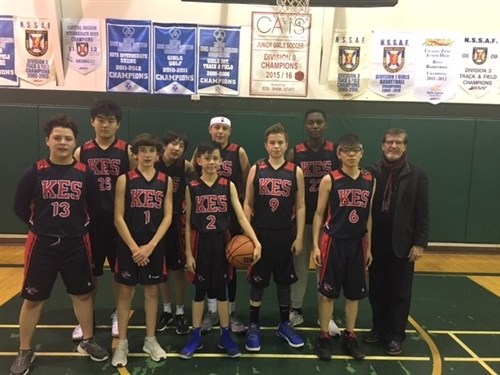 The Junior Girls were led by
Hannah Bryant, Maya Faucher, Gabby Strickey
and
Sarah Hilborn
as they took on Halifax teams and Queen Charlotte from Prince Edward Island.
The Senior Boys B Team was competitive all weekend and pulled off a win in their final game versus Armbrae Academy.
Brisnel Etou, Ben Im, Jason Wang
and
Max Cole
led the way for the team as 13 players all recorded many minutes of playing time. The tourney featured several games and a chance to represent the School while enjoying Halifax with teammates.