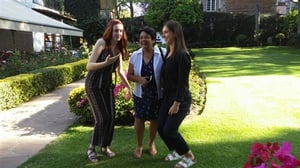 At the beginning of the school year, my Grade 12 Spanish students mentioned that it would be nice if they could visit Mexico and practise everything they had learnt. Even though we were a small group, it was possible to set up an affordable proposal and for Easter Break. Amy Marchand-Dion, Riley Coe and I were ready for this adventure.
Departing on March 28th, we were in Mexico City for 5 days enjoying nice weather, delicious food and all that Mexico has to offer to locals and tourists. Even though the arrival day is always tiring, we were ready to start enjoying the attractions that were on the agenda. We had the opportunity to see the Ballet Folklórico de México which shows folk dances corresponding to different states of the country and different periods in Mexican history. It is a dance with typical spectacular costumes.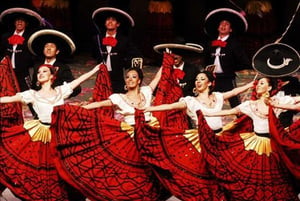 What I find attractive about Mexico City is the variety of cultural sites, from the Prehispanic Pyramids of Teotihuacán, an art nouveau Fine Arts Palace, a modern Museum of Anthropology to big modern shopping malls. Even though Mexico City is very big, we had the opportunity to tour it from North to South and from East to West. Easter is definitely a good time to visit the city. While most of the people from the city were at the beach, we were able to enjoy strolling around Reforma Avenue, the most important avenue in the city sometimes compared to the Champs Elysees in Paris.
An incredible anecdote was to meet a Xoloitzcuintle dog while walking on the street. It is extremely rare to see this breed, nowadays. It is known as the Aztec dog because of its antiquity which stretches back more than three thousand years. Amy and Riley enjoyed petting it.


To celebrate our incredible trip, our last lunch was at a very old Hacienda called San Ángel Inn. The construction dates back to the seventeenth century and in 1937 it was declared a "Colonial Monument". This restaurant is famous because of its Mexican cuisine and its gardens.


I hope that exposing Amy and Riley to a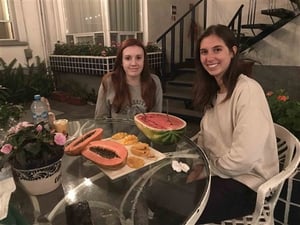 Latin culture enriched their lives, first, because their Spanish improved amazingly, and secondly, because they were able to observe, first hand, the lifestyle, the traditions and the people. They were also able to put into practice aspects mentioned in class like bargaining. I was very impressed to see Riley and Amy practising the art of bargaining which is a must when shopping at markets. They really got into bringing the prices down -- and they did it all in Spanish.


This was a perfect trip full of cultural learning but also full of fun. I am sure Amy and Riley have some great memories.
(As you can see,) King's-Edgehill Students have wonderful opportunities to get off campus and still keep learning. Check out fantastic photos from around the world and read more about all the places that KES Students travel when you download Oh The Places You'll Go!