Almost, Maine
has been one of the top high school play productions for the past few years, and it offers a collection of short love scenes, exploring new-found love, long-lasting friendships that take an exciting leap of faith, or partnerships whose love has dissolved over time. With the world's problems weighing heavily on our shoulders, our Senior School students present uplifting and inspiring stories that remind us of the good things in life. Even when faced with adversity, love will find a way.
Almost, Maine
is brought to you by enthusiastic and spirited students who are bursting with bright talent. Thank you to our backstage members
Sarah, Lily, Maeve,
and
Qiaoman
for interviewing the cast and crew and for writing Newsletter articles each week.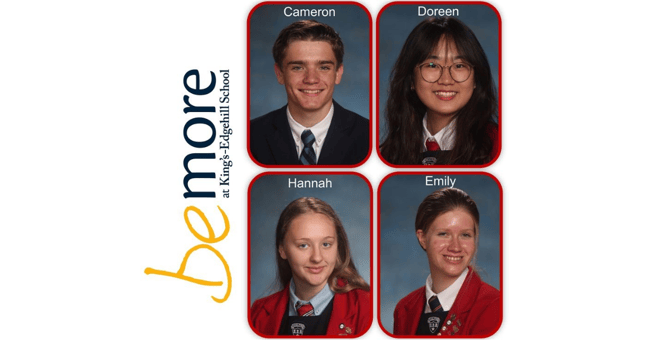 In preparation for the shows on April 21
st
and 22
nd
, we are excited to present three members of our gifted cast and crew to give you a sneak peak of the incredible talent you can expect to see!
Cameron Stewart
is from Nova Scotia, Canada and is one of our extremely talented grads. Although this is his first year here at KES, Cameron has shown himself to be an incredibly talented thespian. Performing has been a passion of his since he was a kid. Whether it was acting in plays or attending musical theatre courses, the arts has become such a large part of his life. This love of his for acting and theatre inspired him to join the play this year and we are so glad he did! When asked about how he was feeling about the upcoming performances, Cameron stated,
"I am so looking forward to performing in the play 'Almost Maine' because I have already gotten to perform it in Grade 10. I always wondered what it would have been like to play different roles and have the opportunity to act a certain way and expand my knowledge in acting. And now that I have that opportunity I am super thrilled. Not to mention I LOVED PERFORMING IN ALMOST MAINE!!!"
As it can be seen with his response, Cameron is quite excited about the play and we're just as excited to have him on our team.
Doreen Xing
is a first-year member of the stage crew. She is learning how to run the background of the play with help from
Edward
who has been part of the stage crew for four years. Doreen joined stage crew because she has watched performances ever since she was little and has always been curious as to how these performances come to life. She finds that the most difficult part of stage crew is remembering what needs to be done at the right time to keep the production running smoothly. Doreen controls the lights and she also uses her amazing art skills to help make the props. Her favourite production the School has put on was "
Mama Mia!
" because it was the first production she got to watch. Doreen is responsible for the safety of the backstage area during the performance. She needs to make sure the area is always clean, and she controls all the set changes. Doreen also finds that being part of the backstage has helped her improve her skills and gain experience; she is a very helpful member of our team.
Emily
Norton
is in Grade 11, and it's her fourth year here at KES and she is from Nova Scotia. She is doing the play to express herself and try to bring the character that she is acting as to come alive. She loved the arts ever since she was a kid and decided to try something new when she came to King's-Edgehill School. She has done musicals and plays. Emily uses the arts to get away from life and even more so during the pandemic. The first musical she did during her time at King's was
42nd Street
. This musical introduced her to tap dancing. She loved doing this and had a lot of fun. Other fine arts activities that she was involved in included Neptune YPCo acting boot camp, playing piano for at least 8 years, and going to art camps. She says,
"You never truly know what you are capable of in that aspect until you give it a shot. Who knows maybe you'll find something that you love doing."
She truly loves the arts and encourages people to give it a try. Some of the skills she has developed are public speaking and singing; these skills have helped her in her daily life.
Hannah
Stilwell
is in Grade 10, from Nova Scotia and this is her 2nd year at King's-Edgehill School. From the age of 3, she has loved the preforming arts. She enjoys singing, preforming, and she loves the environment and the people in the cast. She has no bad experiences, and she considers the Cantatrice Girls Honour Choir her second family. She started voice training at age 7 and was in her first choir at age 10. She has performed in many plays such as in the Neptune Theatre. Some of her many roles were, Annie from
Annie
(first role), Sophie from
Mama Mia!,
and Elsa from
Frozen, Jr
which was performed last year at KES. She has found this is a great way to step out of her comfort zone and a great way to express herself. The skills she has learned are memorizing, teamwork and even how to face disappointment. She always gives it her all and arts will always hold a special place in her heart.