Almost, Maine
has been one of the top high school play productions for the past few years, and it offers a collection of short love scenes, exploring new-found love, long-lasting friendships that take an exciting leap of faith, or partnerships whose love has dissolved over time. With the world's problems weighing heavily on our shoulders, our Senior School students present uplifting and inspiring stories that remind us of the good things in life. Even when faced with adversity, love will find a way.
Almost, Maine
was brought to you by enthusiastic and spirited students who are bursting with bright talent. Thank you to our backstage members
Sarah, Lily, Maeve,
and
Qiaoman
for interviewing the cast and crew and for writing Newsletter articles each week.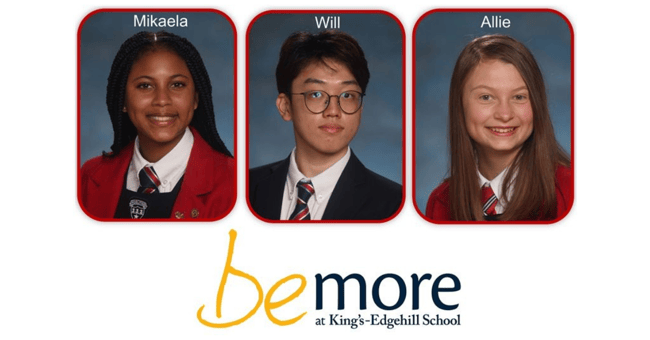 We are excited to present three members of our gifted cast and crew:


Mikaela Hinds
- This is Mikaela's second and final year here at KES. She is another one of our talented crew members from Barbados. Mikaela hasn't always been involved with the arts, however, after taking IB Theatre for a year and helping out with another production, she decided she wanted to get more involved. Doing so has widen her perspective and talents while stepping out of her comfort zone. Theatre, in particular, has become a safe place for Mikaela, as she feels there is no judgement and just an abundance of support. Whether you're an actor taking on a completely different character or a backstage member making sure that everything runs smoothly, there is a role for everyone in theatre. Especially during the pandemic, the arts has helped Mikaela speak out about various issues in a creative way. Mikaela tries to express herself through theatre whenever possible. When asked whether she feels everyone should try taking part in the arts, Mikaela stated, "Without a doubt. Being involved in such creative activities is a surreal experience. It allows us to take a step back from our own lives to take on those of others, whether it's the character we're playing in a play, the person we're painting on a canvas, or the musician of a musical piece that we're trying to perfect." We're going to miss Mikaela as she graduates this year, but we wish her the very best in her future endeavors.
Will Zhao
- This was the second time Will has worked backstage. He also worked backstage for this year's Cultural Fair. Edward and Will were in charge of the lights. He said the only prep he needed was knowing the background of the play. What got Will into working backstage was that he wanted to be part of daily school life. He said the most challenging part of the job was communication and ensuring the cast got everything they needed. He said another position he helped with was ensuring the mics worked well. Will was excited to help out and be part of our school life.
Allie Pape - Allie is originally from British Columbia, and is a 10th grade student in her second year at King's. She has been heavily involved in the arts her entire life, ranging from competitive dance to musical theatre, but she decided to join the Senior School play in order to further her acting experience. Similarly, as in dance, she likes that she can take on the role of someone else and put herself into their position when acting. She sees it as a refreshing escape from the chaos of life. She became interested in theatre after acting non-verbally in the Nutcracker when she played as Clara for two dance seasons. The arts have seriously impacted her life as a way to cope with the turmoil that the pandemic has brought us all. It has been a way to express herself creatively in a way that others can understand. She has had so many amazing experiences with theatre arts but playing Olaf in the production Frozen Jr last year holds a special place in her heart. She has been a competitive dancer for 7 years now but has had to take a hiatus from competing these last two seasons due to the pandemic. However, she still continues training both with the School and independently and doesn't plan to stop anytime soon. For this production of Almost Maine, she was excited to experiment as more mature characters, as previous roles she has done in the past have been more kidlike, such as Olaf, SpongeBob, and Clara. She has always been naturally shy and has difficulty expressing herself in social situations. This is one skill that has seriously been improved due to her participation in the arts as it has forced her to open up her shell more through performing in front of large audiences, speaking to cast mates she had not otherwise met before, or going to auditions.