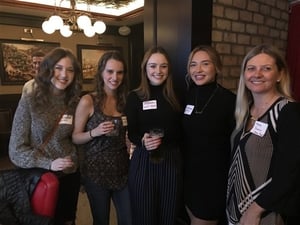 Jenn Shaw and I took to the skies and landed in Toronto on Monday, October 22nd. We hustled into a rental car and made our way to St. Catharines where we had the chance to meet up with
Alexander Hood (1948-1951)
. Alexander had some lovely tales to share with us of his time at KCS in the 1950s.
From St. Catharines, we took off to London. On Tuesday, we met up with London Alumni spanning from 1954-2017. It was an absolute delight to meet
Jill (Dalton) King (1943-45,1947-54)
for the first time. And, it was also delightful meeting up with the students I had taught or coached over the years:
Fede Cisneros (2007-12; Head Boy), Raissa Badibanga (2015-17), Riley Otto (2006-10), Kylie Sears (2010-11, 2013-16), Athan Guo (2013-17),
and
Carla du Toit (2012-16)
. Speeding our way from London to Hamilton, we were blessed to meet up with recent Alumna,
Tessa Firth (2015-18)
, at McMaster University. Alas, our timing wasn't fabulous for our stop at McMaster as several students had meetings or mid-terms!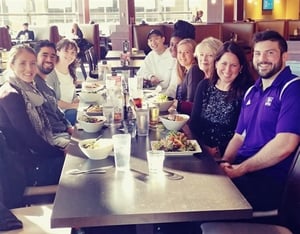 From Hamilton, we made our way to Mississauga on Wednesday to meet up with some special "Old Girls"
Sherri (Barnes) Howard (1954-60), Heather (Barnes) Smyth (1960-63) and Cathy (Hamilton) Shiers (1962-63)
. Of course, we have to mention we had the charming company of Cathy's husband,
Gary
. What a fun time! After our lunch date in Mississauga, Jenn and I took off for Toronto where we were thrilled to join current and Alumna parents,
Myles and Bev Smith [parents to Hannah (2014-17) and Madeleine (2015-19)]
, for dinner before heading to the Raptors game.
On Thursday, we had the most wonderful evening! We hosted an Alumni event at the Bier Market on the Esplanade. We had over 40 guests who attended our School in the 1960s right up to 2013. Again, the class of 2002 represented with the greatest number of attendees!
Please take a look at the photos and see who you can recognise!
Many of our alumni are keeping their KES experiences alive! Connect with KES classmates and reignite the School spirit.