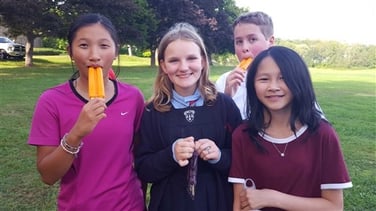 Wednesday, September 5th was Opening Day and the corridors were filled with laughter, chatter, and the welcoming voices of returning students and teachers as they helped new students navigate their first day at KES. After a full School Assembly, Junior School students had an opportunity to meet their student advisor, attend classes, and even get a little prep! The energy and positive spirit were contagious and the day ended outside on Menzies' Field where students and teachers laughed and cheered as they played "get-to-know-you-games".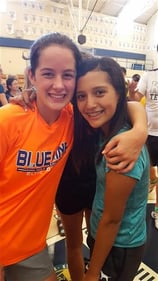 Whether playing with the giant parachute, or challenging the rock, paper, scissors champion, everyone was involved and many new friendships were formed.
It is amazing how quickly a sense of community is established. Whether from Germany, Mexico, China, Taiwan, Ghana, Russia, Turkey or nearby Wolfville, all students were welcomed into our Junior School community and, when all was said and done, a round of popsicles was the perfect treat to beat the heat and end a terrific first day.
There are so many activities here that get students doing more, while we help them aspire to be more. If you're considering King's-Edgehill School for your child, you may want to connect with a current KES parent for answers and insights. We'll connect you with one here.