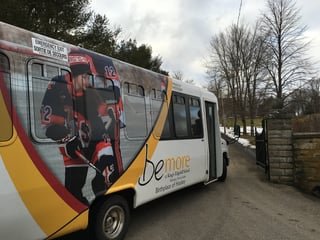 We are delighted to announce a third daily School shuttle—this latest shuttle will service the community of Chester. Private Schools, including King's-Edgehill, are known for providing a safe and nurturing environment for students that often includes unique extra-curricular activities and programs. Some students are lucky enough to live within travel distance taking advantage of all the programs for day students; however depending on how far a potential student lives from the School, transportation can be challenging for parents.
Luckily, even though King's-Edgehill School is part boarding school, part day School, we offer shuttle services to many day students. Some of our day students travel from quite far, and while some parents are willing to drive, others rely on our shuttle services. If you are considering sending your child to KES as a day student, then you should know that getting to KES has never been easier!
KES now has three shuttle buses that transport day students to and from School on a daily basis!
Our Annapolis Valley shuttle has been running since 2010 and is very popular, so popular in fact, that it is a full School bus. Then two years ago we launched a metro Halifax shuttle. This metro shuttle is large enough to accommodate 24 passengers. Both shuttles are well received and were launched to respond to the growing need for reliable daily transportation for KES day students.
Due to the success of our other shuttle services, this September we will add a shuttle for the Chester area. This 11-passenger shuttle will be teacher driven daily, making it even easier for day students from this area to get to and from KES.
With the introduction of a third shuttle, transportation is now simplified for many more families. For those communities we don't serve with a shuttle, families often carpool. We can connect parents with other families in your community also looking to carpool.
It is important for KES to be connected with our local community, which is why we require a fleet of reliable vehicles. Whether your child is a day student or a boarding student, at some point they will require transportation for School activities. It is for this reason that we know parents also appreciate our ready-to-travel fleet of vehicles. These vehicles also allow for day students to participate in clubs, sports, volunteering, and more – all while their transportation is looked after by the School.
Space is limited; if you are interested in the shuttle please reserve your space as soon as possible. Full details on the shuttle services can be found by following the link. Contact us to reserve your spot on any shuttle or for assistance in connecting you with families from your community to carpool with.