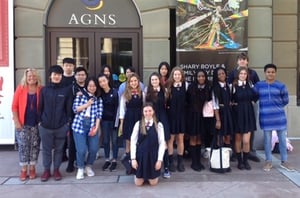 The Grade 10 Art Class visited the Art Gallery of Nova Scotia on Wednesday, May 9th. We had the opportunity to view a few of the visiting exhibitions. The exhibit
The Light Fantastic
was very popular -- the artists worked in neon light, video, print, paint and photography. This show was influenced by a line in one of John Milton's poems of 1645. Other exhibits that we visited included:
Transatlantique: The Art of Fashion and Costume Design in Paris and Halifax
;
Shifting Grounds
, and
Hiroshige: The Fifty-Three Stations of the TŌKAIDŌ
. To check out other Art Gallery of NS exhibitions
Click here
.

After a very inspiring day, we had lunch at the Halifax Shopping Centre. Thank you for an incredible day.
Learning doesn't stop when we leave the classroom. Download the "Oh, The Places You'll Go!" PhotoJournal to discover the many places your child will go as a KES student!