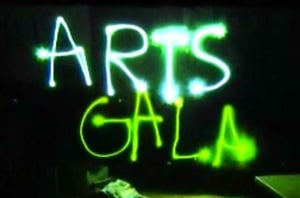 Often it is the students of the Senior School who get attention in my weekly newsletter article for their artistic talents. And so it is in the opening segment of this week's video clip; however, the interesting opening treatment gives way to a number of our Junior School girls performing a piece at our recent annual Arts Gala awards evening. Senior Visual Arts students designed and generated a time-lapsed photographic/video introduction to the night's event. It is a cool and creative work of multi-media art. Following that, the young ladies performed with enthusiasm, a musical theatre number from Disney's Freaky Friday entitled

I'm Not Myself Today

. I love the cross-pollination of ages and talents.

This clip

nicely illustrates a balance of ability and creativity, with the Juniors demonstrating that a young age does not limit ones' ability or potential.
Our Senior Artists include
Bryan Li, Kate Smith, Eric Mei, Sebastian Parsons-Hall, Aden Scott, Piranavan Somasekaram, Max Cole
and
Morgan Bryant
. Our Junior thespians are
Maya Faucher, Hannah Bryant, Taylor Cole, Gabby Strickey, Emily Norton, Megan Mattie
and
Gabby Shaw
.
Please note that we have two upcoming Fountain Performing Arts Theatre events which I hope you can attend:
May 23rd, 7:00pm - Annual Spring Fling Concert, featuring and mandatory for all co-curricular and class bands as well as other select KES musicians.
June 3rd, 7:00pm - 1st

Annual Dance Recital, featuring various dance styles performed by KES students.
There are so many activities here that get students doing more, while we help them aspire to be more. If you are considering King's-Edgehill School for your child, you may want to connect with a current KES parent for answers and insights.