Athletes of the Week (AOW) are selected based on athletic performance and sportsmanship. Positive sporting behaviour is valued at KES and integral to our Athletic Philosophy and School Mission Statement emphasizing gentleness and learning and dignity and respect.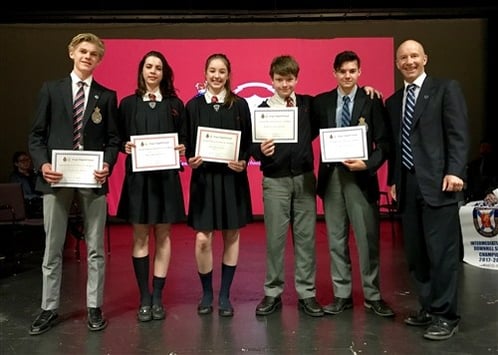 The Week of February 26th – March 4th
SENIOR BOYS:
During the season
Cameron Ross
had put up big numbers for offense, and it could be easily believed that he peaked at that time. Not to be. Cameron unleashed the beast within and put everything he had on the line in trying to get a Provincial win. He led the team in scoring and played maximum minutes during the three Provincial games. While we did not get the Provincial title, he clearly demonstrated what a team captain should be and will be missed from next year's edition of the Senior Boys Basketball team.
SENIOR GIRLS: Téa Racozzi
helped make history by captaining the first King's-Edgehill Senior Girls Wrestling team to win a Provincial championship. Although she had a dominating performance at the Provincial tournament, capturing valuable points for the team and winning an individual GOLD medal, her more important contributions came throughout the season. The leadership Téa provided to the team of mostly rookies was characterized by valuable instruction, inspiration, dignity, and respect, on and off the mat, in practices and in competition. She helped make her younger and less experienced teammates harder workers and better competitors. The team could not have come so far without her.
JUNIOR GIRLS: N/A
JUNIOR BOYS: Righo Etou
- It is hard to keep an athlete like Righo a secret; while he was always a strong leader on the Junior Boys Basketball team this year, he started to play a few minutes for the Senior team later in the season. Those few minutes grew into playing most the game and being dominant at the Senior level. While Righo's own humility would recognize that he has some work to do in terms of skill development, with work he will be a force for his Senior Basketball career. We certainly would not have made it as far as we did without him.
The Week of March 5th – 11th
SENIOR BOYS:
As Team captain,
Evan Logan's
leadership and commitment to the Snowboard Cross (SBX) programme was tremendous throughout training and the competitive season and it paid off: he placed 2nd overall in the Western Region as an individual and won the right to race at Provincials where he missed 3rd place by 0.33 of a second. Impressive results in a category of over 25 riders!
SENIOR GIRLS:
A dedicated rider,
Clare Bennett-Gibbs
never missed the opportunity to ride and practise on the boardercross course. She held 2nd place in the Western Region Races and held that position at the NSSAF Provincials, winning the SILVER medal as an independent, which she accepted with a humble grin. Well done, Clare!
JUNIOR GIRLS:
In our last tournament of the year,
Kaylee Hickey
played an important role on the Girls Hockey team and came out flying! With only two lines, Kaylee saw some veteran minutes and proved to be one of the best players on the ice in our first game against Rice School. She fore-checked hard and had many chances in front of the net, but most importantly, Kaylee never lost her smile throughout the weekend. She has a bright future here at KES!
JUNIOR BOYS: Aden O'Callaghan
- Always eager to ride, and with a permanent smile on his face, Aden strapped on his snowboard every day and hit the snow with enthusiasm. He took his training sessions seriously, and his riding improved greatly over the course of our short season. After placing 14th in his first competition, he rode the boardercross course every run he could. It paid off and he led his Junior Boys team to a BRONZE placement on the podium at the NSSAF Provincials, placing 4th overall. Fantastic!
The Week of March 12th – 25th
SENIOR BOYS: Rustam Kulizade
played a pivotal role in backstopping the Boys Hockey team in back-to-back tournaments in Ontario. He made many saves in an important game against Bishops College which gave KES the victory and earned us the second seed of the U 16 playoff round robin. Rustam was also outstanding at the National tournament in Toronto where he faced, on average, 50 shots per game. His outstanding performance earned him the team's most valuable player for the National tournament. Rustam was outstanding in net for the Boys team and this is a credit to his determination and willingness to compete in every game.

SENIOR GIRLS: Madi Taljaard
competed with 32 biathletes from across the country at the Canadian National Biathlon Championships in Charlo, New Brunswick. Her desire to improve even as the hype and adrenalin at the National Championships surrounded her didn't deter her focus. Her standing shooting practice has improved considerably and she set a new bar for her preparation phase of training in early summer. Congratulations, Madi. Set your sights for 2019!
JUNIOR GIRLS:
Aria MacDonald
performed very well at her first National Championship in Biathlon over the March break. She deserves credit for a strong mental performance where she raced up from the Junior Girl category to Senior Girl in a field of 32 competitors and can boast she shaved 8 minutes off the same sprint race a month ago. Her athletic strength and noticeably improved ski technique have contributed to her solid focus as a biathlete. Congratulations.
JUNIOR BOYS:
As a first-year junior high wrestler,
Callum Lovelace
has continued to improve in every practice and every match and at every tournament. Wrestling is a very technical sport and Callum has been an excellent learner. He works very hard at practice and is always very inquisitive. He has no hesitation practicing his technique with our biggest guys, including Tommy and even Mr. Verryn-Stuart. He was exceptional at the Provincial championships, winning some key matches to qualify for the provincial final where he gave everything he had and earned a SILVER medal at his first Provincial championship. Callum took his experience from his high school championship and recently attended the PEI Open championship over the break. Well done, Callum!