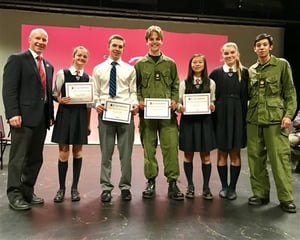 "Athletes of the Week" (AOW) are selected based on athletic performance and sportsmanship. Positive sporting behaviour is valued at KES and integral to our Athletic Philosophy and School Mission Statement emphasizing gentleness and learning and dignity and respect.
For the Week of September 23rd
Junior Boy ~ Mitchell Dinn was outstanding in his goaltending debut against Newbridge Academy's Under 18 team last week. Mitchell made a lot of key saves in the game that got the attention of his teammates and spectators. In 22 minutes of action, Mitchell only let in 2 goals while stopping a minimum of 20 shots. His determination to compete on every shot is a true example of being an honest team player. He also just returned from an exciting and successful Grade 9 Duke of Edinburgh Adventurous Journey.

Junior Girl ~ Hannah Bryant's camaraderie toward her soccer teammates is exceptional, and she brings her "A Game" in both skill and spirit to training sessions and games. Forward seems to be a great fit for this veteran player, as she scored a hat trick and generously set up her teammates for scoring opportunities in our season opener versus Evangeline Middle School. Hannah's knowledge of the game of soccer and her overall skill will be counted on to lead us through this season.

Senior Girl ~ Lily Gale is a Grade 10 student athlete who has already shown leadership on and off the soccer pitch. Her skill in the midfield supporting our Grade 12 captains, Téa and Kyra, was so exciting to see in our first exhibition game of the year. We look forward to Lily's continued leadership with the team throughout the season and into Grades 11 and 12.


Senior Boy ~ Nicholas Cheverie had an outstanding performance as right winger during the KES Invitational Soccer Tournament this past weekend. After hard work during the practices, he still had enough energy to sprint the wing up and down in 4 games. His effort, tenacity and will on the pitch were a great contribution to his team which resulted in a great 3rd place finish in the tournament; defeating last years' tournament and Provincial championship team 2-1. With his performance on and off the field, he earned his Captaincy of the Senior Boys D1 Soccer Team. We will depend on Nick's leadership as we aim for another D1 league and Regional championship this year. We are proud that Nick is able to share his love of soccer as well as being a full IB Diploma candidate and contributor to our School play.

We want every child to find an activity they can pursue with passion. With three seasons of sports and over 20 different options to choose from, we're pretty sure your child will find a few they will love. Download our Athletics Photojournal to discover more sports at KES.