"Athletes of the Week" (AOW) are selected based on athletic performance and sportsmanship. Positive sporting behaviour is valued at KES and integral to our Athletic Philosophy and School Mission Statement emphasizing gentleness and learning and dignity and respect.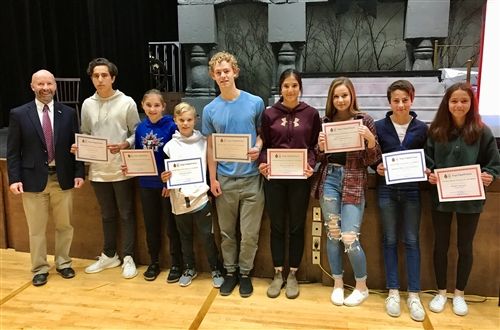 For the Week of October 7th

- 13th


Junior Boy - Cooper Pape
has been a valuable member of the Junior Boys B Soccer Team. Always hustling, this skillful player has helped his team be competitive all the way to the finals versus Mt Uniacke. A determined player, his attitude is always exemplary. He raises the confidence of the whole team. Congratulations, Cooper!
Junior Girl
- Although
Jada MacKinnon
was a late addition to the Junior Girls' soccer roster, she took no time to show her team that she is a leader, and to show the opposition that she means business! Easily walking in to the centre mid position, Jada competes with intensity for each minute of play, never giving up and demonstrating athleticism, endurance and soccer smarts. In the team's three league games during the week of October 7-10th, Jada stepped up her intensity and was counted on to provide offensive opportunities and to hold off an aggressive Horton High to a minimum number of goals against. Congratulations, Jada!
Senior Girl
- Grade 10 centre-back,
Kayla Jarvis
, has been a most steady and reliable central defender all season for KES and in last week's 2 games, her play was stellar. In Tuesday's game against Central King's, not only was Kayla instrumental in playing the ball out of defence and into attack, but her dogged and fierce defending reduced CK's offence to only 2 good chances, one of which Kayla flung herself in front of the ball at the goal line to prevent a sure goal. Against Middleton on Thursday, Kayla, partnering at central defence with
Neila MacDonald
, was rock-solid in denying Middleton a single quality scoring chance. These are 2 really strong performances from a player who is getting better each and every day!
Senior Boy - Ryan Costello
had a very good weekend at the recent Prep School Hockey Federation (PSHF) tournament in Exeter, NH. Throughout the four games that were played, Ryan, one of our team captains, scored three goals and ripped many hard shots at opposing goaltenders. Wherever the team went, Ryan made sure everyone was accounted for and well behaved. He also made sure that everyone on the team always pitched in to help the coaches with all the details that need to be taken care of during long road trips. Most importantly, Ryan was a true role model for the many new players on the squad. Great job, Mr. Costello!
For the Week October 14th

– 20th


Junior Boy - Andres Montano Ibarrola
has been a defining member of the Tier 1 Junior Boys' Soccer team's midfield this season. His poise, determination, and playmaking skills make him a key contributor to the team's play. Andres anticipates plays, moves the ball with finesse and is always there to support his team. It will be great to have Andres on our side as the team moves on to Regionals next week. Well done, Andres.
Junior Girl - Rendi Ashley
played an instrumental role in the central midfield position in three key games at the Western Regional Playoffs held this past weekend in Chester, with our KES Senior Girls' team. In both games on Friday, Rendi's strong technical skills were really put to the test. In game 1, on a very bumpy and narrow field that allowed her opponents to put her under pressure much earlier than she is accustomed, Rendi adjusted well playing a number of quality passes that led to great scoring chances. In game 2, against a quality veteran Forest Heights team, Rendi's play was awesome as her passing and movement of the ball to get open allowed KES to outplay her opponents on the field of play. In Saturday's placement game, KES played their 3rd game in 24 hours, and Rendi played every minute plus 30 extra minutes of overtime, and then took one of the 7 KES penalty kicks. For a Grade 8 student playing at the high school level, Rendi's play, work ethic, and contributions to her team were phenomenal. Congratulations, Rendi!
Senior Girl - Neila MacDonald, a Grade 10 defender and forward, she was excellent in the Western Regional Playoffs. In game 1 on Friday, Neila started the game in the striker position and scored the team's 2nd goal and then dropped back into central defence to preserve a 2-0 win over Barrington Memorial High School. In game 2, Neila started as a striker and produced 3 great team-scoring chances before dropping back into defence where she stabilized the backline despite a lop-sided loss. In game 3 against West Kings HS on Saturday, Neila was a beast as she competed HARD on every play, set up a number of shots and scoring chances for herself and teammates, and scored the tying goal that sent the game into overtime and then penalty kicks. She also scored her penalty shot. Well done, Neila!


Senior Boy: Alonso Frias
Aguilar
has been one of the most consistent performers for our KES D1 Soccer team this season. He leads by example and is always willing to put in the extra work necessary to be successful. This week at Regionals he was again our most consistent player, dominating in midfield and was instrumental whenever we were on top and controlling games. He also scored our goal from the penalty spot after a long wait, which always makes it more difficult, showing his mental strength. Well done, Alonso!