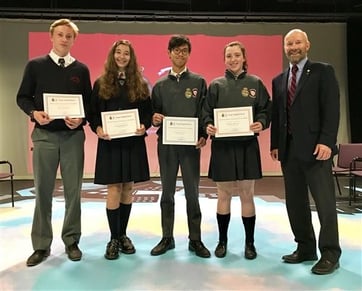 "Athletes of the Week" (AOW) are selected based on athletic performance and sportsmanship. Positive sporting behaviour is valued at KES and integral to our Athletic Philosophy and School Mission Statement emphasizing gentleness and learning and dignity and respect.
For the Week of April 22nd

– April 28th
Junior Boy ~ William Ahern
had a great ACIS Ultimate Frisbee tournament. He worked well with his teammates and played a key role as a handler on his line. Throughout the tournament his throwing and playmaking skills improved and he made some excellent full-field passes. Will was always quick to get to the disk and ardently supported his teammates from the sidelines. Well done, Will!
Junior Girl ~ Hannah Bryant
had a great ACIS Ultimate Frisbee tournament. She was a tireless and determined defender and added a quick-cutting offense. Hannah has a great sense of play and made several key runs that resulted in points. Defensively, she was dogged in her pursuit of the opposition and won more than her fair share of turnovers. Hannah thrived in the competition and gave her all during every play she made. Limited subs meant extra play time and Hannah pushed herself to the limit to support her team. Well done, Hannah!
Senior Girl ~ Jayden Morrow
inspired her teammates with an impressive display of skill during the ACIS Ultimate Frisbee tournament in Halifax. Her tireless efforts on defence, and knowledge of the game kept the team competitive throughout both matches. Well done, Jayden!
Senior Boy
~ At the Table Tennis Regionals,
Anson Chan
came in first in the individual event. In team competition, Anson, along with fellow teammates
River Qi, Zhiming (Jimmy) Wang
and
Xianlong
(Daniel) Zhang
, came in first place overall (out of ten teams). This team will travel to Cape Breton to defend their team provincial championship from last season.
Anson
was also recently selected by the Nova Scotia Table Tennis Association to participate at the Atlantic Championships as part of team Nova Scotia on May 18-19th. Best of luck and congratulations, Anson!
For the Week of April 29th

– May 5th
Junior Boy ~ NA
Junior Girl ~ NA
Senior Girl ~ Maddy Walsh
contributed immensely to three straight wins in one week for our KES Girls' Softball team. She not only pitched three complete games, but she made impressive defensive plays. She played an important role offensively with her hitting skills at the plate which resulted in several runs and a home run. Congratulations, Maddy!
Senior Boy ~ Evan Logan
: Although the Senior Boys' Rugby team did not play any games between April 29th and May 5th, Evan stood out when the rugby programme at King's-Edgehill School, and in high schools across the province, was under threat of being banned by the NSSAF. During our sport's biggest challenge, Evan provided one of the most articulate voices in defense of high school rugby when he was interviewed by the media. His comments were shared across the country and, they helped provide the impetus to contribute to saving our sport. Thanks also to
Téa Racozzi
who organized and participated in the event. This is a battle that is still being fought. Thank you, Evan!
Athletics is one of the four pillars of a King's-Edgehill education and we offer three seasons of various sports and athletic programmes. Download our Athletics PhotoJournal to discover which of the over 20 different sports your child will love.