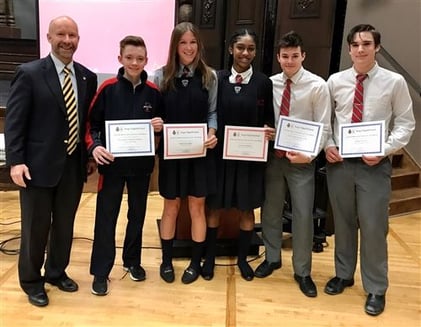 "Athletes of the Week" (AOW) are selected based on athletic performance and sportsmanship. Positive sporting behaviour is valued at KES and integral to our Athletic Philosophy and School Mission Statement emphasizing gentleness and learning and dignity and respect.

For the Week of January 20 - 26

Junior Boy - Vincent Armstrong
keyed a victory for the Grade 6/7 Basketball team recently. He played hard the whole game and was in a position, in the final seconds, to take the deciding shot. He scored to secure a one-point victory over Wolfville School. Vinny is also a great soccer player. His efforts in basketball shows it is always great to try new sports at KES and to help lead us to victory. Congratulations Vinny!

Junior Girl - N/A

Senior Girl - Grace Fillmore
is one of the captains of our Senior Girls' Basketball team. She leads our team with quiet confidence and steady dedication. Grace was our top-scorer last week in our game against Avon View. She had numerous steals and played her most aggressive game ever where she hauled down 20 rebounds.
Senior Boy - Callum Lovelace
recently competed in the Eastern Canadian Wrestling Championships at UNB. He wrestled in the 71 kg weight class with the U-21 men. This was one of the toughest weight classes in the tournament, and he placed 5
th
, with some of his best wrestling to date. It was great to see Callum try numerous attacks and escapes. He showed that he is certainly one of our most skilled wrestlers. We look to him as a leader in our bid to challenge for a title at Regionals and Provincials which are being hosted at KES on March 6
th
and 7
th
.
For the Week of January 27 - February 2

Junior Boy – N/A
Junior Girl – N/A
Senior Girl - Aaliyah Arab-Smith's
leadership and dynamic athleticism led our Girls' Prep Basketball team to a 2
nd
place finish in our recent KES Invitational Tournament. Aaliyah hit big shots at important times, kept the team focused, and made excellent decisions when leading the team on the offensive side. She averaged 21 points, 7.5 assists, 8 rebounds, and only 3 turnovers per game throughout the 4 physical games. Congrats Aaliyah on a great weekend of Prep Basketball.
Senior Boy - Greg Otto
led our Senior Boys' Wrestling team to their first GOLD medal finish of the season at the annual Sackville High School tournament on February 1. Excellent fitness and superb technique were on display as Greg bested 5 other competitors in the 92-kilogram class to win an individual GOLD medal after a great final against his teammate and toughest opponent,
River Qi
. Greg was the smallest wrestler in this weight class. Exciting times are ahead when Greg and the rest of our Wrestling team hosts Regionals and Provincials on March 6 and 7. Great work, Greg!

Mr. Kim Walsh