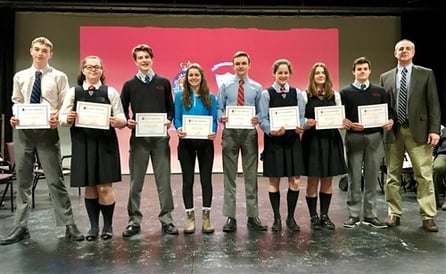 "Athletes of the Week" (AOW) are selected based on athletic performance and sportsmanship. Positive sporting behaviour is valued at KES and integral to our Athletic Philosophy and School Mission Statement emphasizing gentleness and learning and dignity and respect.
For the Week of February 18 – February 24
Junior Boy ~ Kyle Clanachan
had a great Hoopla Basketball tournament. He is our best rebounder and he brings a love of basketball to the courts each game. Kyle scored on many drives in our final tournament, and he finished his Grade 9 year as a team leader on and off the court.
Junior Girl ~ Gabby Strickey
showed great leadership and intensity during both games at our Hoopla Basketball tournament. She dominated the boards resulting in key rebounds, leading to important scoring opportunities for her team. She played aggressive defense and was a tremendous finisher around the net. Gabby's high basketball IQ, work ethic and leadership during both games resulted in all of her teammates rising to a higher level of play. A great way to end your Junior School basketball career, Gabby!
Senior Girl ~ Madi Taljaard
represented Nova Scotia at the Canada Winter Games skiing 4 races over 5 days. Her powerful and consistent training gave her the advantage over almost all the Atlantic biathletes in every race placing just below half in the field of 40 athletes. Madi possesses the strength and cardio for skiing, the calm control for shooting and most of all the ability to mentally handle the pressure which comes with competition at a national level. Congratulations, Madi.
Senior Boy ~ Peter MacGregor
led the D-Hockey Team to the Long Pond Invitational Championship. He is a smooth skater and a team leader. He understood the spirit of the tournament and used his skills for positive results at all times as a scorer, defender and role model. He also plays some basketball and is a great citizen.
For the Week of February 25 – March 4
Junior Boy ~ Quinn Emery
, along with his wrestling teammate
Greg Otto
, was so dominant on Friday that, despite having a small team, they won Regionals in the Junior boys' division. Thankfully, they were both in the largest draws of the event which enabled them to earn maximum team points. The next day, Quinn won SILVER in an exceptionally tough weight class. He has come a long way in the past several months, absorbing technical skills like a sponge and preparing to compete at the Senior level next year. Well done, Quinn!
Junior Girl ~ Bella Turner-Galaise
put on a technical clinic on Friday and Saturday. She defeated six opponents altogether to win individual GOLDS on both days against the best wrestlers in the Regional and Provincial championships. She also achieved her goals of trying new moves and winning all of her matches via pins. We can't wait to see her take on more leadership as she joins the Senior team next year. Congratulations on winning your sleeves in your first year, Bella!
Senior Girl ~ Raya Rhein's
wrestling skills peaked at just the right time. She helped the Senior Girls' wrestling team win GOLD at Regionals and finish a close, 1 point back, for a second place finish at Provincials. She won individual GOLDS both days. She complimented her natural athletic abilities with smart, technical wrestling skills in order to defeat opponents above her regular weight class. Raya is a very coachable and capable athlete, and now we're looking forward to her contributing just as much on the rugby team in the spring.
Senior Boy ~ Callum Lovelace
had a particularly tough weight class on Friday and Saturday. Nonetheless, he worked hard to earn individual second place finishes both days, losing only to his main rival, an older and more experience opponent, in close matches. Callum was upset in the final, after being up 10 – 4 in the last seconds. This was still a great result, as Callum is in his first year as a senior wrestler and has two more years to perfect his craft. He will continue to challenge himself when he,
Téa and Bella
attend the Canadian National age-group championships at the beginning of April. Congratulations, Callum!