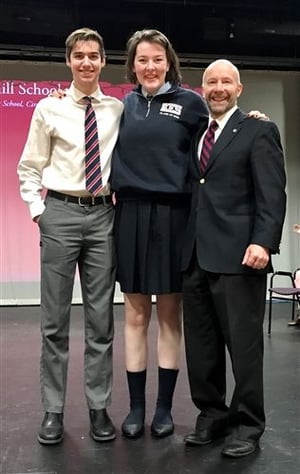 "Athletes of the Week" (AOW) are selected based on athletic performance and sportsmanship. Positive sporting behaviour is valued at KES and integral to our Athletic Philosophy and School Mission Statement emphasizing gentleness and learning and dignity and respect.
For the Week of December 2nd

– January 5th
Junior Boy: N/A
Junior Girl: N/A
Senior Girl: Claire Englehutt
was a great captain for the girls at our most recent basketball tournament; she was consistently strong from game to game. On Friday, December 6
th
she played her best game of the season thus far, with Mount A's coach watching. She had huge rebounds, scored 22 points, set tons of screens and made smart passes that opened scoring opportunities for her teammates. Keep up the great work, Claire!
Senior Boy: Bryson Uberoi
has been recognized for his excellent work in net against the Mount Academy U-18 team in a recent 4-3 loss. Bryson stopped 27 of 31 shots while making key saves. He will be counted on for his leadership skills both on and off the ice. We will depend on him during our Ice Jam tournament this week. Well done, Bryson!