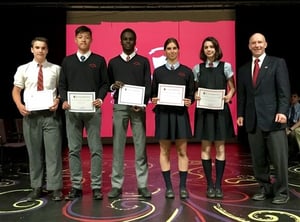 "Athletes of the Week" (AOW) are selected based on athletic performance and sportsmanship. Positive sporting behaviour is valued at KES and integral to our Athletic Philosophy and School Mission Statement emphasizing gentleness and learning and dignity and respect.
For the Week of May 7 – 13
th
Senior Boys: Hoi Man (Kelvin) Nip
won the 'Hammer of the Match' after the Senior Boys win over Avon View last week with a combination of hard tackling, wise-ball movement, and leadership at standoff – a position he has not played very much this year. We're looking forward to more of the same from him during the boys' regional final match on Thursday.
Senior Girls: Amy Marchand-Dion
played her best rugby of the season so far last week. While she has been a leader on and off the field, she took her game to another level recently. In a very important league game against Horton High, Amy spearheaded our attack and defense en route to a decisive victory. Later that weekend Amy led our team to a third-place finish at the annual David Voye Memorial Tournament in PEI. Despite missing 7 of our usual starters, Amy's play and leadership were instrumental to our success. Her humble and focused approach to the game is appreciated by her coaches and teammates alike.

Junior Girls: N/A
Junior Boys: N/A
For the Week of May 13 – 20
th
Senior Boys: Brisnel Etou Bosseba
competed in four individual intermediate events and two relays, qualifying for Regionals in all and winning the 100m dash, and high jump as well as leading the winning 4x100m relay team. He had a very busy and successful two days. In between his events, he was busy on the podium receiving his awards. We wish him all the best at Regionals this coming weekend.
Senior Girls:
As an opener for the Track and Field 2018 competition,
Mae Batherson
broke the Senior Girls District record for hurdles with a time of 13.23 seconds. Mae then went on to compete in 4 individual and 2 relay events and qualified for Regionals in all 6 events including a GOLD medal finish with her teammates in the 4x400. All the best this weekend, Mae!
Junior Girls: Aria MacDonald
bested her competition by a large margin in striding to a GOLD medal in the intermediate 800m race. She also qualified for Regionals with a 2nd place finish in the 1500 and 3000 meter races. We wish her and her teammates great success at the Regionals this week.
Junior Boys: Greg Otto
continued to impress everyone as the youngest starting member of the Senior Boys' Rugby team. He played the entire game against Avon View last week in the front row – a particularly difficult position, especially given that he was considerably outsized by his opposite number. Good work, Greg!